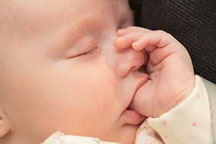 Dhaka, 23 August, Abnews : Finger sucking is a very common practice in children. Not only finger they like to suck with any piece of skin within reach even the big toe. They do it especially at the time of sleeping. Though pediatric experts consider it a mere problem but to dental experts it may cause severe problem in the long run.
Director of Dhaka Shishu Hospital Professor Dr Manzoor Hussain said "Sucking is very natural for babies, which we called conditioned reflex." "Germs are spread through the sucking. Children who suck hard on their thumbs may create sores and infections", he said adding, "sometimes parents have faced embarrassed situation in society".
He considers it as a very common for them to use their thumbs or fingers as part of their routine to find comfort and to soothe themselves. But the Head of the Department of Orthodontics and Dentofacial Orthopedics of Dhaka Dental College and Hospital Dr Zakir Hosaain said finger sucking or using pacifier in the long run may cause different dental problems including hampering the gum development.
"It may cause the upper jaw narrow as it puts pressure on the sides of the jaw and soft tissues on the mouth roof, as a result teeth may not meet properly from the top to the bottom", he said. Dr Zakir said "It can also cause speech problems such as a lisp (a speech problem in which the sound 's' is pronounced 'th') that may need therapy."
Another dental surgeon Dr. Elora Hossain, who deals with Orthodontics patients everyday, said, "There are long-term effects of finger sucking that can be worse for a child with a cross-bite (a condition in which the upper and lower teeth don't meet properly)". The habit in the long run causes an imbalance across the teeth and affects the structure of the mouth and jaw, said the dentist.
At birth, a baby will automatically suck any object placed in its mouth and they get pleasure and comfort by it but the experts advise the parents to prevent the practice from the very beginning and not to turn it into a habit.
Abn/Fri-01/Lifestyle/Desk/MR/Mustafiz/Fatama
রিপোর্ট শেয়ার করুন »