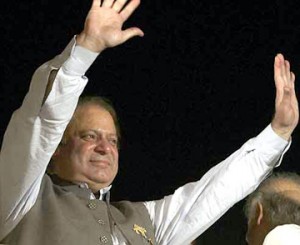 Dhaka, 12 May, Abnews : Nawaz Sharif today headed for a third term as Pakistan's Prime Minister as his PML-N party took an unassailable lead over its rivals in landmark general elections that witnessed a huge turnout despite Taliban threats and bomb attacks. Trends from 264 of the 272 parliamentary seats that went to the polls showed that the PML-N was set to bag in excess of 125 seats, while Imran Khan's Tehrik-e-Taliban Pakistan and the Pakistan Peoples Party were lagging far behind with 34 and 32 seats, respectively. Writings on the wall: For democracy and bijli, uninterrupted supply
The PML-N was returned to power at the national level after millions of Pakistanis braved Taliban threats and violence that claimed some 50 lives to vote in the landmark general election that marked the first transition from one civilian government to another in the country's 66-year history.
Sharif proclaimed victory for the PML-N while addressing a group of jubilant supporters at his home in Lahore last night and asked people to pray that the final results would deliver an absolute majority for his party so that he would not have to lead a weak coalition.
The results are still coming in but we almost have confirmation about one thing – that the PML-N has emerged the largest party in this election. I ask you to pray that the results that come in the morning will show that the PML-N can form government without outside support, so that the PML-N doesn't have to seek support from anyone, he said.
The PML-N's strong performance will make it possible for Sharif to form government at the centre with the backing of independent candidates and smaller rightist parties like the Jamiat Ulema-e-Islam which was leading in 11 seats. Analysts said it was possible that the Muttahida Qaumi Movement, leading in 12 seats, could back the PML-N.
Abn/Sun-01/International/Desk/Mustafiz/Fatama
রিপোর্ট শেয়ার করুন »