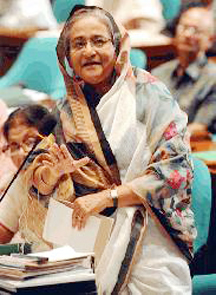 Dhaka, 19 June, Abnews : Prime Minister Sheikh Hasina today told parliament that tender for the Padma Bridge Project would be invited in the last week of this month and the government will do its best to begin construction of the bridge during its present tenure.
"The government has allocated Taka 6,852 crore in the national budget for the fiscal 2013-2014 to implement the project by its own fund," she said replying to a tabled question of treasury bench member Muhibur Rahman Manik.
The Prime Minister said after assumption of the office the government gave priority to construct the country's largest infrastructure Padma Bridge and the proposal to appoint consultancy firm for making a detailed design of the project was approved at the first meeting of the cabinet committee on public purchase. The design of the bridge was finalized and loan agreement signed with four development partners of the project, she added.
Sheikh Hasina said the government took an accelerated programme to start quickly the construction of the Padma Bridge to complete it in due time. As part of the programme, Technical Evaluation Committee (TEC) comprising experts sent the evaluation report on selection of contractors to World Bank on 18 July 2010 for their consent, she said and added in reply the World Bank in a letter on 23 September 2010 recommended for starting a fresh pre-qualification of bidders.
Accordingly pre-qualification tender was invited and the World Bank gave consent to the pre-qualification evaluation report on 1 July 2011, but bidding documents were not issued to the pre-qualified bidders as the bank did not give consent, the Prime Minister said.
The WB's consent was necessary in different phases of tender process as the bank was the lead coordinator of the co-financiers of the Padma Bridge Project, Sheikh Hasina said adding the bank suspended the process to give consent on evaluation committee report bringing allegations of corruption in the tender process.
Besides, the Prime Minister said the government appointed Prime Minister's Economic Affairs Adviser Dr. Mashiur Rahman as Integrity Advisor to ensure transparency at all stages of the project. Even a former official was made as member of the evaluation committee as per suggestion of the WB, she added.
Sheikh Hasina said although the WB cancelled the Padma Bridge Project's financing bringing allegations of corruption it was not proved in the investigation of Anti-Corruption Commission (ACC).
Later, the WB returned to the project and imposed various fresh conditions, which might prolong the implementation of the bridge, she said and added that considering the interest of the people the government decided to implement the Padma Bridge with its own fund.
Abn/Wed-02/National/Desk/MR/Mustafiz/Fatama
রিপোর্ট শেয়ার করুন »