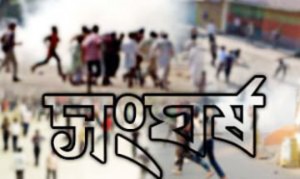 Dhaka, 19 January, Abnews : Over 50 persons including 22 police personnel were injured in clashes between law enforcers and Jamaat-Shibir men at Khanabari and Kadamtala areas under Sarbananda union of Sundarganj upazila in the district on Sunday early morning. Police said a team of Sundarganj thana police went to Kanabari and Kadamtala areas to arrest the enlisted accused of four police constables murder case in the early hours today at around 1.00 am.
Sensing the presence of the law enforcers, the Jamaat-Shibir men of the areas swooped on the police and confined them. At one stage, the activists of Jamaat-Shibir torched the vehicle of the police parked at Kanarmour area of the union. Being informed, the joint forces comprising army, BGB, RAB and the police and UNO Abu Rafa M. Arif and additional police super Mosarrof Hossain rushed to the spot and rescued the confined police members.
Later, the joint forces in the areas conducted raids triggering the clash between the law enforcers and the activists of Jamaat-Shibir that continued till 7.30 am today leaving 22 police men including SI Rajab Ali, ASI Neharanjan and ASI Mohirduddin injured, said officer in charge of Sundarganj thana M. Mojammel Haque.
During the clash, the law enforces fired gunshots and rubber bullets at them; he said adding that five activists of Jamaat-Shibir had been arrested from the spot. Local people said at least 30 Jamaat-Shibir men were also injured in the clash with the law enforcers. Of them, 20
activists suffered bullet injuries in the clash, and seven of them were sent to Rangpur for treatment in critical condition.
Asked, additional police super Mosarrof Hossain denied the torching of the police vehicle by the fanatics but he heard the news of pick up van torching at Kanarmore area by some people. Talking to the media, police super M. Mofazzel Hossain said additional law enforcers had been deployed there to check any untoward incident.
Abn/Sun-01/Politics/Desk/MR/Mustafiz/Fatama
রিপোর্ট শেয়ার করুন »