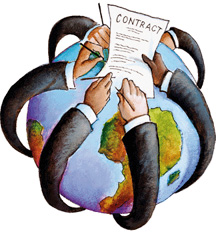 Dhaka, 15 June, Abnews : Terming outsourcing as a potential name for Bangladesh's rapid development, speakers at a seminar here have said it could further strengthen the country's economic foundation. The outsourcing could massively contribute to turn Bangladesh into a middle-income country by 2021 as envisioned by the present government. But it is not possible without skill and development, they said. The speakers also said creating skilled human resources at this moment is very much needed for solving unemployment problems and improving living standard. For this, a complete professional computer training for the unemployed youths is a must, they added.
Creative IT Institute, a subsidiary organization of the Creative IT Ltd, arranged the seminar on outsourcing at Oxford International School auditorium in the city on Friday. At the function, a reception was accorded to Wasik Farhan Roopkotha, 7, a Bangladeshi computer whiz kid who is going to write his name in the Guinness World Record as the youngest IT expert in the world.
The UK-based globally-acclaimed TV show, Ripley's Believe It or Not, earlier recognized Roopkotha as a wonder boy and placed him in its annual cartoon book as the world's youngest computer programmer. Earlier, the Bangladeshi super genius boy hogged headlines in the international media as BBC News, Zee News, World News, New York Herald Tribune, California Observer, Estate News, Children Post and many international websites ran stories on him and recognized him as the youngest computer programmer on the earth.
Roopkotha's amazing story has been included in the Bangladeshi national textbook for class-XIII, English for Today. Principal Head of School of the Oxford International School GM Nizam Uddin Shaheen was the chief guest at the function presided over by Chairman of Creative IT Ltd Ataur Rahman Kabul.
Managing Editor of The Independent Shahnoor Waheed, Managing Director of Speed Technology and Engineers Ltd Md Abdullah Al Mamun, General Manager of Nexux Mobile Sayedur Rahman and Marketing Manager Nafiz Imtiaz also spoke on the occasion, among others.
Managing Director of Creative IT Ltd Md Monir Hossain, lecturer of the Software Engineering Department of the Daffodil International University Md Mizanur Rahman and Bangladesh's Country Manager in Elance Sayeedur Rahman Mamun conducted the seminar.
The organizers of the seminar also honoured two BASIS Outsourcing Award recipients and two members of Creative IT family–Md Ali Azgar and disabled freelancer Md Zahidul Islam-by presenting crests to them.
Speaking on the occasion, Chairman of Creative IT Ltd Ataur Rahman Kabul assured that his organization would continue its support for the skill development of Bangladeshi freelancers. We would provide distant training through online and scholarships to the poor, women and disabled, he said. Besides, he said, the Creative IT Ltd is going to organize an outsourcing summit in Dhaka very soon.
Abn/Sat-01/Economics/Desk/MR/Mustafiz/Fatama
রিপোর্ট শেয়ার করুন »