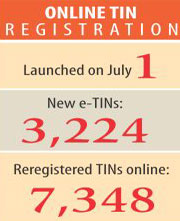 Dhaka, 10 September, Abnews : The available online registration and re-registration facilities ease tax payment process ensuring genuineness of the Taxpayer's Identification Number (TIN), speakers said at a meeting here on Monday afternoon. The government has been providing digitised online facilities so that all eligible people could pay their income tax easily in a hassle-free manner for accelerating all development activities without taking any foreign assistance, they said.
Rangpur Chamber of Commerce and Industry (RCCI) and Rangpur Zonal Tax Commissioner's Office jointly organised the meeting at RCCI Board Room with RCCI President Mostafa Sohrab Chowdhury Titu in the chair. Joint Commissioner of Taxes of Rangpur Zone Mohammad Abu Ishahaque attended the meeting as the chief guest and asked the RCCI leaders for popularizing online TIN registration facilities to prevent use of fake TIN by a section of unfair people.
He also elaborately narrated and demonstrated the easiest and quickest process of online TIN registration and re-registration by the taxpayers sitting at homes or convenient places to avail the digitised facilities now available everywhere. After online TIN registration and re-registration, all information will be safely preserved centrally that will stop any bid of using false TIN and the taxpayers would be able to know anything about their tax payment and genuine TIN anytime, he said.
Deputy Commissioner of Taxes of Rangpur Zone Aminul Islam Munshi, Assistant Commissioner of Taxes Nur-E-Alam, Senior Vice- president of RCCI Moztoba Hossain Ripan, its Directors Shah Mohammad Selim, Mostafa Ahmed, Fazlul Haque, Mozammel Haque Dambel, Enamul Haque Sohel, Reaz Shaheed Suman, Rabi Somani, Debobrato Sarker Ranju and Mohammad Mograb Ali also spoke.
The speakers said that economic development of any nation mainly depends on the realised tax money and asked all citizens irrespective of their professions to avail the prevailing online facilities in paying their due income taxes to accelerate uplifts.
The chief guest said the government has taken various steps in inspiring the citizens for spontaneously paying taxes using online facilities to enhance national development side by side making themselves respectable people in the society. Later, he handed over the just printed out TIN certificate to RCCI Director Mostafa Ahmed following his re-registration of all necessary tax related information using online facilities there.
Abn/Tue-01/Media/Desk/MR/Mustafiz/Fatama
রিপোর্ট শেয়ার করুন »