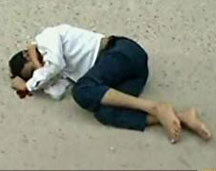 Dhaka, 14 August, Abnews : One hartal picket was reportedly killed in a clash with police at Dania of Jatrabari here as Bangladesh Jamaat-e-Islami (JI)-enforced countrywide 48-hour hartal entered the second day today. Locals and hospital sources said the deceased was identified as Md Khalilur Rahman, 22, president of 88 no ward of Islamic Chhatra Shibir (ICS), student wing of JI.
Meanwhile, police claimed the victim was crushed under the wheels of a motor vehicle while police tried to chase them out as they (pickets) swooped on police with crude bombs, brickbats and lethal weapons early today.
Around 40/50 hartal pickets came out on the street in front of AK High School and College at Dhania at about 7 am supporting hartal. At one stage they vadalised some vehicles and also tried to torch others, officer-in-charge (OC) of Jatrabari police station Md Rafiqul Islam told abnews.
He said, Police were forced to charge baton and open several rounds of bullet to disperse them as they launched attack on police with crude bombs, brickbats and lethal weapon. The victim was crushed under the wheels of a vehicle when joint- forces of Jatrabari and Kadamtoli police stations tried to chase them out. Two police personnel were also injured during the clash, he said.
Khalilur was rushed to Sir Salimullah Medical College Hospital (Mitford Hospital) where doctor declared him dead, he added. Earlier, Jamaat-Shibir activists vandalised several vehicles and exploded several crude bombs at Adabar in the city, police said, one picket was arrested in this connection.
Jamaat-e-Islami called strike protesting a High Court verdict that declared illegal the party's registration with the Election Comission. The hartal is scheduled to end at 6am tomorrow (Thursay). Earlier, the first day of the hartal marked with clashes, arson and vandalizing vehicles, obstructing vehicle movement, pro and anti-hartal processions, explosions of crude bombs in the capital and country's some other districts including Rajshahi, Meherpur, Barisal, Chittagong, Satkhira and Feni.
Witnesses said the hartal, however, affected a little on normal public life as buses and other mechanized commercial transports and rickshaws plied in large number. Launch and train services were normal but long-route buses were grounded at city terminals due to the strike. Officials said banks and financial institutions were open.
Members of law enforcement agencies along with Rapid Action Battalion (RAB) and plainclothes detectives are maintaining stringent security fearing destructive activities in the capital and elsewhere across the country. Along with the deployment of additional members of law enforcers, mobile courts are active in the Dhaka Metropolitan Police (DMP) areas, assistant commissioner of media wing of Detective Branch (DB) of police Mohammad Abu Yusuf told abnews.
Abn/Wed-01/Politics/Desk/MR/Mustafiz/Fatama
রিপোর্ট শেয়ার করুন »