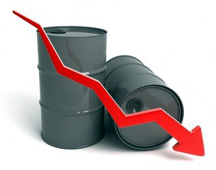 Dhaka, 08 May, Abnews : Market forecasts for a surge in US crude inventories dragged down oil prices in Asian trade today, analysts said. New York's main contract, light sweet crude for delivery in June, dropped six cents to $95.56 a barrel in the morning and Brent North Sea crude for June delivery shed 23 cents to $104.17. US oil stockpiles are already at record levels, and you would assume they will continue to increase with plentiful supply and weak demand, Jason Hughes, head of sales trading at CMC Markets in Singapore, told media.
This will drive prices downwards in the short term even with the current uptick in sentiment about global growth prospects. The US Department of Energy releases its weekly inventory report later Wednesday. Analysts polled by Dow Jones Newswires projected an increase of 1.4 million barrels in the week ended May 3.
Last week the department said crude supplies hit the highest level since 1982, when the weekly report began, indicating that production was outstripping demand and putting downward pressure on prices. The United States is the world's biggest economy and its largest oil- consuming nation, and its consumption is closely monitored by the market.
Traders are also keeping a close watch on tensions in the oil-rich Middle East following Israeli air raids outside the Syrian capital Damascus on Sunday. The raids reportedly targeted weapons bound for Lebanese group Hezbollah and raised new concerns of the Syria conflict spilling over.
Abn/Wed-01/Economics/International/Desk/Mustafiz/Fatama
রিপোর্ট শেয়ার করুন »