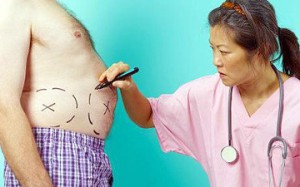 Dhaka, 07 June, Abnews : Obesity surgery worked much better at reducing and even reversing diabetes than medication and lifestyle changes in one of the most rigorous studies of its kind. But the researchers and others warn that possible serious complications need to be considered. The yearlong study indicates that the most common weight-loss surgery, gastric bypass, can effectively treat diabetes in patients with mild to moderate obesity  about 50 to 70 pounds overweight, the researchers reported Tuesday in the Journal of the American Medical Association.
Other studies have shown the operation can reverse diabetes in severely obese patients, although sometimes the disease comes back. About a third of the 60 adults who got bypass surgery in the new study developed serious problems within a year of the operation, though some cases were not clearly linked with the surgery. That rate is similar to what's been seen in previous studies.
But for the most serious complications- infections, intestinal blockages and bleeding – the rate was 6 percent, slightly higher than in earlier research. The most dangerous complication occurred in one patient when stomach contents leaked from the surgery site, leading to an overwhelming infection, leg amputation and brain injury. Lead author Dr. Sayeed Ikramuddin, an obesity surgeon at the University of Minnesota, called that case a fluke.
A journal editorial says such devastating complications are rare, but that the frequency and severity of complications … is problematic in the study and that the best way to treat patients with both obesity and diabetes remains unknown. A research review in the journal said more long-term evidence on risks and benefits is needed to determine if obesity surgery is an appropriate way to treat diabetes in patients who aren't severely obese – at least 100 pounds overweight.
Abn/Fri-01/Health/International/Desk/Mustafiz/Fatama
রিপোর্ট শেয়ার করুন »