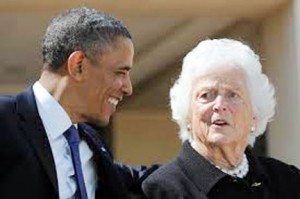 Dhaka, 02 January, Abnews : US President Barack Obama wished Barbara Bush well on Wednesday, saying he and his wife Michelle hoped the ailing former first lady would feel better soon. The 88-year-old was admitted to a Texas hospital Monday for a respiratory-related issue, according to the office of her husband, former president George H.W. Bush. It said she was in great spirits as she recovered at Methodist Hospital in Houston's Texas Medical Center.
Michelle and I send our best wishes to Mrs Bush for a speedy recovery, Obama said in a statement. Barbara is blessed to have both a loving, supportive family by her side and a vibrant spirit that we hope will have her feeling better soon. I know I speak for Americans everywhere when I say that our thoughts and prayers are with Barbara and her family on this New Year's Day, he added.
Bush was first lady from 1989 to 1993. She is also the mother of former president George W. Bush, who was in the White House between 2001 and 2009. In a brief update, Bush family spokesman Jim McGrath told media the high-profile patient had a wonderful day and was continuing to respond to treatment. McGrath did not rule out a possible case of pneumonia, but said she was not on a respirator. On New Year's Eve, Bush watched American football with her husband, who also visited his wife's bedside Wednesday afternoon, McGrath said.
Former president Bill Clinton also sent his best, tweeting I'll be rooting for Barbara Bush's full recovery. Bush was admitted to the same hospital in 2008 and underwent surgery for a perforated ulcer. The following year, she had open- heart surgery due to narrowing of her main heart valve. In 2010, Bush received treatment for a mild relapse of Graves disease, a thyroid condition for which she was treated in 1989.
Abn/Thu-02/International/Desk/Nazmul Houda/Mustafiz/Fatama
রিপোর্ট শেয়ার করুন »