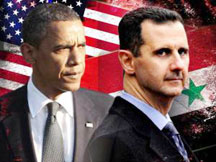 Dhaka, 30 August, Abnews : US President Barack Obama was weighing his options late Thursday on how to respond to Syria's alleged chemical weapons use, according to lawmakers briefed by the administration. Secretary of State John Kerry and Defense Secretary Chuck Hagel were among top officials who conducted a telephone briefing with 26 members of the House and Senate.
Democrats and Republicans alike stressed that Obama's team pledged to consult more with lawmakers on the path forward, including options for a military strike on Syrian President Bashar al-Assad's forces. The president's national security team said that he is still weighing his options and will continue to consult with Congress, Representative Eliot Engel, top Democrat on the House Foreign Affairs Committee, said after the 90-minute, unclassified briefing.
The White House made very clear that it is beyond a doubt that chemical weapons were used, and used intentionally by the Assad regime, he said, adding that the administration agrees that this type of action cannot go without consequences. More than 140 US lawmakers have expressed reservations about Obama using executive authority to launch a military strike without congressional approval.
But Senate Foreign Relations Committee chairman Robert Menendez said he came away believing a decisive and consequential US response is justified and warranted to protect Syrians. This is not a moment to look the other way, to blind ourselves to the horrifying images in Syria, and to send the dangerous message to the global community that we would allow the use of a chemical weapons attack to take place with impunity, he said.
But top Senate Armed Services Committee Republican James Inhofe warned that while the administration said it had a broad range of options for intervention, it provided little specificity. They failed to lay out a single option. They also did not provide a timeline, a strategy for Syria and the Middle East, or a plan for the funds to execute such an option, Inhofe said.
Senator Bob Corker, ranking Republican on the Senate Foreign Relations Committee, said while he is opposed to American boots on the ground in Syria, I would support surgical, proportional military strikes given the strong evidence of the Assad regime's continued use of chemical warfare.
But he insisted the administration would be far better off if they seek authorization based upon our national interests, which would provide the kind of public debate and legitimacy that can only come from Congress.
Abn/Fri-01/International/Desk/MR/Mustafiz/Fatama
রিপোর্ট শেয়ার করুন »