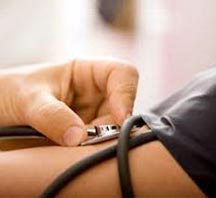 Dhaka, 05 August, Abnews : A revolutionary skin patch that can treat high blood pressure and slash deaths from heart attacks and strokes has been developed and cleared for use in Japan. The patch, invented by a Japanese firm, needs to be changed every day. It gradually allows a drug to seep through the skin and into the bloodstream once patients stick it on to their arm, chest or back. It provides a steady flow of bisoprolol, which is a type of beta blocker – unlike pills which can cause blood pressure levels to peak and trough dangerously.
Experts believe that having a constant and steady supply of the drug could reduce the incidence of heart attacks and strokes, the 'Daily Express' reported. The breakthrough patch has been cleared for use in Japan and could be available in the UK within the next couple of years.
Each patch contains either a four or eight milligramme dose. Beta-blockers have been used for nearly 50 years to treat high blood pressure, angina, heart failure, anxiety and even migraine. The Japanese firm Nitto Denko, which has developed the patch, said that not only will it improve blood pressure control but will also help patients who have trouble swallowing pills.
In clinical trials, the new patches kept blood pressure readings stable throughout a 24-hour ­period. This is important because blood pressure can go up and down at different times of the day and night. The number of reported side-effects from the patch was about the same as with tablets.
Abn/Mon-01/Health/International/Desk/Mustafiz/Fatama
রিপোর্ট শেয়ার করুন »