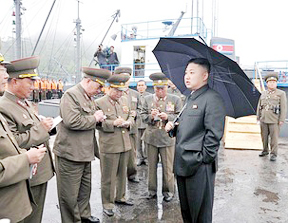 Dhaka, 03 June, Abnews : As presidential baptisms go, being threatened with a pre-emptive nuclear strike within 10 days of taking office is probably about as fiery as it gets. South Korean President Park Geun-Hye will have completed 100 days on Tuesday — a period dominated by soaring military tensions with North Korea that included Pyongyang's dire warnings of nuclear armageddon. Throw in a parliamentary deadlock, high- profile resignations and a sex scandal that tainted the diplomatic highlight of her presidency so far, and it adds up to a heady three months since Park was sworn in as her country's first woman leader.
The daughter of South Korea's late military strongman, Park Chung-Hee, the 61-year-old Park was elected in December to revitalise an economy seen as running out of steam and ideas after decades of rapid growth. She promised to create millions of jobs, many of them in a new creative economy that would shift the focus away from heavy manufacturing and take South Korea to another level by rewarding innovation and entrepreneurship.
For most of the electorate, North Korea was an also-ran campaign issue, but by the time Park was inaugurated on February 25, the North had carried out its third nuclear test and was topping the global news headlines. Tensions on the Korean peninsula surged throughout March and April, fuelled by Pyongyang's fury at fresh UN sanctions and joint South Korea-US military exercises.
While the crisis focused attention on North Korea's young, inexperienced and little-known leader Kim Jong-Un, the untested Park also came under close scrutiny. She had stumbled out of the blocks domestically, as opposition parties responded to plans for a structural government overhaul with a parliamentary roadblock that held up key appointments and left her without a functioning cabinet for weeks.
As the stand-off with North Korea intensified, her nominee for defence minister withdrew amid allegations of past wrongdoings, compounding concerns that Park tended to make major appointments and decisions without adequate consultation. In terms of personnel management, I'd give her a generous D- minus, said sociology professor Chun Sangchin of Sogang University. She flunked it basically.
By the end of March, her polling numbers had fallen significantly, according to monthly tracking surveys carried out by the Seoul-based Asan Institute think-tank. But the still-escalating crisis with North Korea turned things around.
During the 2012 election campaign, only eight percent of South Koreans had cited relations with the North as a top issue. By April this year, with Pyongyang issuing daily threats of war, that had changed to 30 percent. In concert with Washington, Park refused to offer any concessions to calm Pyongyang down, despite fears that Kim Jong- Un might be willing to tip the situation over the edge.
When the North took the drastic step of withdrawing its workers from the Seoul-funded Kaesong joint industrial zone, Park responded by pulling out managers and staff of the South Korean firms there. She had been struggling out of the gate, but North Korea gave her the chance to look presidential and she really nailed it, said Karl Friedhoff, programme officer at the Asan Institute's Public Opinion Studies Center.
She called the North's bluff on Kaesong and that resonated very well, Friedhoff said. A White House keen to demonstrate its solidarity played up her US visit in May that included a summit with President Barack Obama and an address to a joint session of Congress.
By the time she returned from Washington, the Asan polls had her popularity rating up at 69 percent, despite a scandal that enveloped her spokesman for allegedly sexually harassing a female intern during the US trip. Choi Jin, an analyst at the private Institute of Presidential Leadership in Seoul, said Park had come through her first major test well, but added that the real challenge lay in somehow co-opting the North, not staring it down.
She successfully blew some strong winds towards Pyongyang, but eventually some warm sunshine will also be necessary, Choi said. As the threat from the North has subsided, the focus has switched back to Park's plans for reinvigorating Asia's fourth-largest economy, which grew just 2.0 percent in 2012 – the slowest pace for two years.
Amid rising anxiety over job security, social welfare and income disparities, Park's vision of a new technology-focused creative economy is a distinctly long-term solution. 100 days is too short a period to use as a reliable indicator for her the future of these long-haul issues over her five-year term, said professor Chun.
Abn/Mon-01/International/Desk/MR/Mustafiz/Fatama
রিপোর্ট শেয়ার করুন »