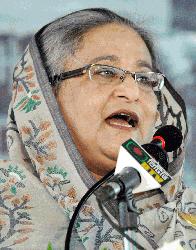 Dhaka, 25 May, Abnews : Assuring the people of ensuring their voting and constitutional rights, Prime Minister Sheikh Hasina today categorically said there will be no more elections like Magura and 15th February. The voting and constitutional rights of the people would remain ensured, and elections like Magura and 15th February would not be held further in the country, she said. She also added that the government has already upheld voting, constitutional and democratic rights of the people.
We want to ensure at least that system that those whom the people would cast vote would go to power, she said. The Prime Minister also renewed her call to the opposition leader to join parliament and speak whatever she wants. Come to parliament and speak whatever you want. But don't unleash violent acts like killing people, torching and vandalizing public and private property and kicking the stomach of the poor, she said Sheikh Hasina, also the Awami League chief, said this in her introductory speech at a view-exchange meeting with the grassroots leaders of Kishoreganj district unit of her party at her official Ganobhaban residence here this morning.
The Prime Minister mentioned that over 5600 elections, including Jatiya Sangsad by-polls, upazila, pourasabha and union and union parishad, were held in the last four and a half years of the present government. She said all the elections were held in a free, fair and neutral manner and the government did not make any interference in any polls. None could raise any question about the polls as we could not stage Magura and 15th February-style elections, she said.
Mentioning that the Election Commission is now completely independent, Sheikh Hasina said the EC was formed for the first time through a search committee after discussion. Ex-President Zillur Rahman invited all the political parties for the discussion on constitution of the EC, and all political parties, including main opposition BNP, joined the dialogue, she said.
AL General Secretary Syed Ashraful Islam, PM's Advisor Dr Alauddin Ahmed, Joint Secretary Mahbub-ul Alam Hanif and Organizing Secretary AFM Bahauddin Nasim, among others, were present at the meeting. AL Organizing Secretary Ahmad Hossain conducted the view-exchange meeting which was convened as part of a series of view exchange meetings with the grassroots-level leaders and workers initiated by the ruling Awami League at the end of the year 2011.
The office-bearers of Kishoreganj district unit AL, national committee members, lawmakers of the party, administrator of Kishoreganj District Council, presidents and general secretaries of upazila, thana, union and municipal units and upazila chairmen and vice-chairmen of the party, mayors and councillors of municipalities, chairmen of the union councils and presidents and general secretaries of the associate and like-minded bodies of the Awami League district unit were also present at the meeting.
Abn/Sat-02/National/Desk/MR/Mustafiz/Fatama
রিপোর্ট শেয়ার করুন »