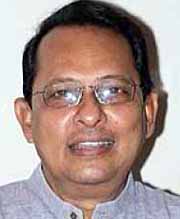 Dhaka, 20 May, Abnews : Information Minister Hasanul Haq Inu said the publishing of Amar Desh newspaper wasn't under legal bar and the newspaper authority might continue printing operation at another press if it wished to do so. Amar Desh press was sealed as objectionable materials were found there. Later, Dhaka District Magistrate announced temporary closure of the press, said Inu. He also said the press wouldn't be opened until the completion of investigations procedures. This came as the minister was speaking at a press briefing at the conference room of information ministry Monday noon.
Asked why the authorities didn't allow printing of Amar Desh at the press of Dainik Sangram, Inu said: Amar Desh authorities planned to print the newspaper by keeping Dainik Sangram authorities in the dark and that's why we didn't give permission. Amar Desh authorities may use Al-Falah press to print the newspaper by showing legal documents.
Speaking of the arrest of Amar Desh acting editor Mahmudur Rahman, the minister said: The newspaper created anarchy and instability in the country by publishing false, hacked and provocative reports and pictures. These are crimes according to criminal laws and information technology laws. Rahman was arrested in cases filed with specific charges.The editors perhaps issued statement seeking Rahman's release without understanding and knowing the facts clearly, added the minister.
Abn/Mon-01/Media/Desk/MR/Mustafiz/Fatama
রিপোর্ট শেয়ার করুন »