Dhaka, 13 November, Abnews : The war crime trial verdict on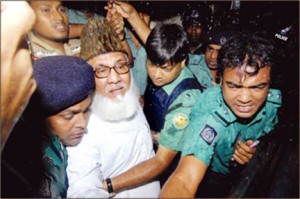 will be announced any day. The International Crimes Tribunal-1 made the announcement Wednesday morning.
The Jamaat chief was indicted on 16 war crimes charges on May 28 last year. The trial proceedings against the defendant started off with prosecution witness Misbahur Rahman's testimony on August 26. The prosecution later produced 25 more witnesses against the defendant.
Nizami born in 1943 at Mohammadpur village of Pabna's Santhiya Upazila in Pabna district. He was the head of the East-Pakistan unit of Islami Chhatar Shangha, then the student affiliate of Jamaat-e-Islami.
He headed the 'Al Badr' militia till September, 1971 after which he became a member of the Jamaat-e-Islami.
War crimes convict Jamaat leader Ali Ahsan Muhammad Mujahid was then made the chief of Al Badr, responsible for killing of intellectuals in Dec 14, 1971 along with other war crimes.
Nizami played a key role in setting up the Peace Committee and Razakar Force, meant for oppressing pro-liberation Bengalis.
Abn/Wed-01/Law & Crime/Desk/Nazmul Houda/Mustafiz/Fatama
রিপোর্ট শেয়ার করুন »