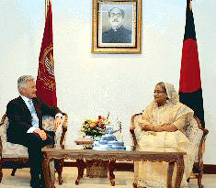 Dhaka, 04 June, Abnews : Prime Minister Sheikh Hasina today reiterated her firm determination that the next general elections would be held in such a manner which is followed by the nations having parliamentary democracy including the United Kingdom. The Prime Minister expressed this view when visiting British Minister of State for International Development (DFID) Alan Duncan called on her at her office here this morning. After the meeting, PM's Press Secretary Abul Kalam Azad briefed reporters about the outcome of the meeting.
Sheikh Hasina said her government has strengthened the election commission to stand democracy on a solid foundation. In this connection, she mentioned the appointment of election commissioners including the CEC through a search committee by late President M Zillur Rahman. She also pointing to the holding of over 5,600 elections in a free, fair, neutral and peaceful manner in the last four and a half years without any intervention from the ruling party.
Referring to the synchronized bomb blasts at 500 places in 63 districts and grenade attack on British High Commissioner Anwar Chowdhury during the rule of the past previous BNP- Jamaat government, the Prime Minister said her government contained militancy and terrorism with iron hand in the last four and a half years. She said her government is determined to bring major improvement in the social, economic, and political life of the common people.
The government also put special emphasis on mass literacy and education, development of agriculture, transport and energy sectors and human resources, she added. The Prime Minister said her government reached the healthcare services to the doorsteps of the common people through community clinics and is providing free textbooks up to secondary level to spread education.
Besides, she said Prime Minister's Education Assistance Trust Fund with Taka 1000 crore seed money has been constituted to help the poor and meritorious students to continue their study up to the degree level. She referred to Vision 2021 of her government setting up a goal to transform Bangladesh into a middle income country by 2021. She requested the British investors to take the advantage of investment – friendly climate and trainable, competitive work force of Bangladesh for channeling greater FDI into Bangladesh.
The Prime Minister appreciated the UK government for supporting the efforts of Bangladesh to bring those responsible for committing atrocities during the 1971 War of Liberation to justice. Terming the UK as one of the major economic and trade partners of Bangladesh, the Prime Minister appreciated the duty and quota-free access of Bangladeshi products to the EU markets and hoped that the UK will support LDC-friendly 'Rules of Origin' requirements.
Ambassador-At-Large M Ziauddin, PM's Principal Secretary Shaikh Md Wahid- Uz- Zaman, PMO Secretary Molla Waheeduzzaman and Press Secretary Abul Kalam Azad were also present .
Abn/Tue-01/National/Desk/Jasim/Mustafiz/Fatama
রিপোর্ট শেয়ার করুন »