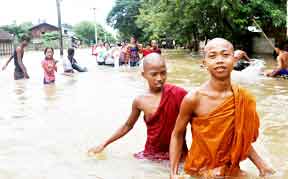 Dhaka, 02 August, Abnews : Tens of thousands of people were sheltering in relief camps in eastern Myanmar after flash floods swept the region leaving three dead, state media said Friday, warning of more heavy rain to come. Nearly 33,500 people have been moved to 79 camps in Karen State after monsoon floods that also caused three deaths and left another person missing, according to state newspaper the New Light of Myanmar.
Some 245 schools have also been closed while landslides have damaged roads after rains began to pound the state on July 27, the reported added. In neighbouring Mon State a further 4,700 people were temporarily displaced by floods but some have now returned to
their homes. The United Nations said it had delivered some medical aid including water purification tablets to both states.
State media warned people who live next to rivers in the Irrawaddy Delta further to the west to prepare for heavy rains. All those who live in the delta region and at either side of the rivers are urged to take necessary preventive measuresagainst the natural disasters as there may be incessant rains in the coming days, it said. People also need to be aware of the dangers of electric shocks, snakes, landslides and collapse of trees. Parts of Myanmar are inundated each year during the monsoon period, which ends in October.
Abn/Fri-01/International/Desk/MR/Mustafiz/Fatama
রিপোর্ট শেয়ার করুন »