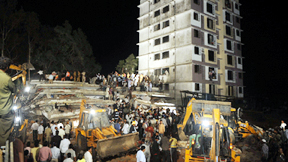 Dhaka, 21 June, Abnews : A three-storey residential building on Mumbai's outskirts collapsed Friday, killing two children and trapping more people inside, officials said. There are two dead, one is a two-month-old girl and one is a 7-year-old boy. There are more trapped inside and rescue operations are in full swing, said Sandeep Malvi, spokesman for the Thane municipal corporation.
He said the reason for the early morning collapse of the structure, built in 1979, was not yet clear. The incident happened in Thane district, about 35 kilometres (20 miles) from the centre of Mumbai, close to the scene of another apartment block collapse in April that killed 74 people.
Two builders and seven others were arrested in connection with that tragedy. Another collapse of part of a five-storey apartment block occurred just last week in central Mumbai, killing 10 people. The building collapses have highlighted widespread shoddy construction standards in India, where huge demand for housing and pervasive corruption often result in cost-cutting and a lack of safety inspections.
Abn/Fri-01/International/Desk/MR/Mustafiz/Fatama
রিপোর্ট শেয়ার করুন »