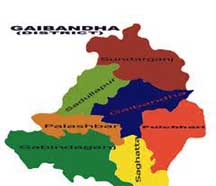 Dhaka, 12 February, Abnews : Muktijuddho Smriti Stambha and Pathagar (MSSP) constructed on the ground of Muktinagar High School in Muktinagar union of Shaghata upazila here, was inaugurated on Tuesday. Deputy Speaker of Jatiya Sangshad (JS) and local lawmaker Advocate Fazle Rabbi Miah inaugurated the MSSP through unveiling a plaque as the chief guest.
Local Government Engineering Department (LGED) constructed the MSSP at the cost of Taka 67 lakh under the ministry of Liberation War Affaris, said an official of the department. Speaking on the occasion, the deputy speaker said the country achieved the independence in 1971 after nine months battle with the Pak occupation forces through sacrificing the lives of 30 lakh people.
As the MSSP has been built here as the symbol and memory of the Liberation War, it is our foremost duty to keep the sanctity of it anyhow all the year round, he also said. Executive engineer of LGED M Belal Hossain, UNO Abdul Awal, upazila engineer M Sabiul Islam, social worker Shahadat Hossain Mondal and freedom fighters including journalists were present on the occasion.
Abn/Wed-01/National/Desk/MR/Mustafiz/Fatama
রিপোর্ট শেয়ার করুন »