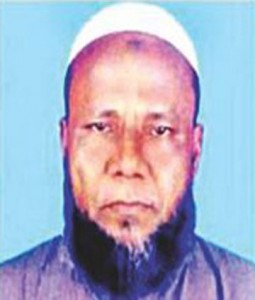 Dhaka, 17 November, Abnews : The International Crimes Tribunal (ICT)-1 today deferred the hearing of the trial of Mobarak Hossain, alleged Razakar commander from Brahmanbaria, to November 19. The ICT-1 reset the date accepting an oral plea of advocate AHM Ahsanul Huq Hena, counsel for Mobarak.
Today was fixed for cross-examining the 12th prosecution witness (PW) Shyamol Chowdhury, who is also the investigation officer in this trial. Advocate Hena quizzed him for about 35 minutes, starting from 11.50 am, but the tribunal later asked him to take his seat, so that it can hold hearing of another trial.
The ICT-1 on April 23 indicted Mobarak on five charges of crimes against humanity. The prosecution on February 25, 2013, submitted the formal charge against Mobarak and the ICT-1 on March 12 took the charges into cognizance. Meanwhile, the same tribunal also adjourned the hearing of the trial of absconding BNP leader Zahid Hossain Khokon alias 'Khokon Razakar' to November 19.
Abn/Sun-02/Law & Crime/DeskMR/Mustafiz/Fatama
রিপোর্ট শেয়ার করুন »