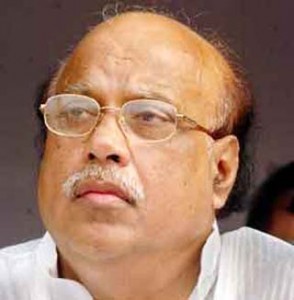 Dhaka, 02 January, Abnews : Some pro-blockade miscreants hurled four bombs in two phases targeting the motorcade of Muhammad Nasim, presidium member of Bangladesh Awami League, at Sarda under Charghat Upazila of the  Rajshahi district this noon. Golam Mourtoza, officer-in-charge (OC) of Charghat Police Station, said the motorcade came under the attack while it was heading towards Charghat to join an election meeting there with police escort around 12.15 noon.
He added that the attackers hurled two bombs at the main gate of Bangladesh Police Academy and two others at Sarda Bazar. However, none was injured in the attack as the bombs were misfired, he added. The bombs were blasted on the road with big bang.
OC Mourtoza says the attack might have been carried out for creating fear among the public in general. Awami League candidate Shahriar Alam, MP, organized the election campaign meeting on Charghat Shaheed Minar premises. Muhammad Nasim joined the meeting as the chief guest, the OC added.
Abn/Thu-02/National/Desk/Nazmul Houda/Mustafiz/Fatama
রিপোর্ট শেয়ার করুন »