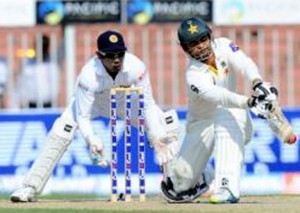 Dhaka, 21 January, Abnews : Pakistan captain Misbah-ul Haq Tuesday urged his team to challenge the Ashes- winning Australia when they play them in their next Test series in the United Arab Emirates in October. Pakistan achieved their fastest run chase of 302 to beat Sri Lanka in the third and final Test in Sharjah on Monday, levelling the series 1-1. Misbah said he hoped his team would further lift their game to challenge Australia.
Australia is a very professional team and against them you need to be focussed. You have to play with a lot of hard work because they come out with lots of plans, so I think it will be a a big challenge for us to play against Australia, said Misbah.
Leading Pakistan since the 2010 spot-fixing controversy which led to bans for then captain Salman Butt and pacemen Mohammad Asif and Mohammad Aamer, Misbah has now won 12 Tests out of 27, losing seven and drawing eight. Misbah said he hoped Australia would be up to the challenge when they faced Pakistan.
It would also be a challenge for them to face our spinners in these conditions, said Misbah of Saeed Ajmal and Abdul Rehman, who spun then world number one Test team 3-0 in UAE in 2012. Misbah said his team would try to repeat the performance they gave against current world number one South Africa in October last year, drawing the two- match series 1-1.
I think we will try to play the way we played against South Africa, we must repeat the same performance against them and show the world that we can reach the top level, said Misbah. We have a young team and when you win matches like these you gain confidence and had there been another Test series close to this it would have benefitted us, said Misbah, whose team next plays in the Asia Cup in Bangladesh in February-March.
This team has been doing well and since we have more youngsters than seniors, problems like batting collapse are there but if these players play regularly then they will gain experience and get better and better.
Abn/Tue-01/Sports/Desk/MR/Mustafiz/Fatama
রিপোর্ট শেয়ার করুন »