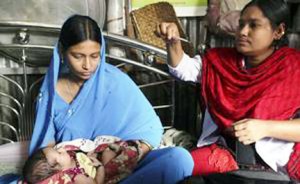 Dhaka, 19 November, Abnews : Bangladesh-born non-government organisation BRAC receives a $1 million worth global award for replicating one of its health projects for slum dwellers in Africa. Drug-maker GSK and the international NGO Save the Children jointly award different organisations with the 'Healthcare Innovation Award' as part of its ambitious joint venture to save millions of children's lives.
BRAC has been recognised for its 'comprehensive' mother, newborn and child health programme, Manoshi, which it implements in Dhaka slums. The project ensures births in skilled hands and swift referral to those who need urgent  care. Nearly 100 organisations from 29 developing countries applied for the award, of whom five were selected.
BRAC will also accept an extra $ 300,000 to test the Manoshi project in Sierra Leone slums where under-five and maternal mortality rates are amongst the highest in the world. Founded in 1972, BRAC is known as the world's largest NGO. It also operates in various countries outside Bangladesh. GSK Managing Director Azizul Huq said the BRAC's project showed what can be achieved through innovations. BRAC health's director Kaosar Afsana called it an 'honour' for them.
Abn/Tue-02/Economics/Md. Nazmul Houda/Mustafiz/Fatama
রিপোর্ট শেয়ার করুন »