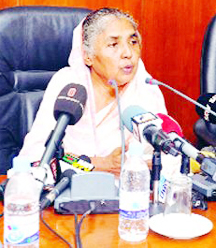 Dhaka, 14 July, Abnews : Agriculture Minister Matia Chowdhury today came down heavily on Hefazat-e-Islam Chief Allama Ahmad Shafi for his derogatory remarks about women and urged all conscious people, including womenfolk, to voice protest against it. The womenfolk reject such an indecent and derogatory remarks of Allama Shafi . . . we all, including the opposition lawmakers, should raise protest against it, Matia Chowdhury said while speaking in the Jatiya Sangsad (JS) on a point of order.
Textiles and Jute Minister Abdul Latif Siddique, State Minister for Women and Children Affairs Meher Afroz Chumki, Chief Whip Abdus Shahid, treasury bench members Baby Moudud, Fazilatunnesa Bappi, Tarana Halim, opposition MPs Barrister Moudud Ahmed, MK Anwar and Asfia Ashrafi Papiya also spoke on the issue.
Matia Chowdhury said Allama Shafi could be an expert about religion but he could not be able to realize the main message of the holy Quran. If he could realize the real message of Quran, he would never have made such indecent comments about women, Matia said, adding that there is a statement on education and jobs for women in the holy Quran.
If we accept the remarks of Shafi, all female MPs will have to stay at home, not in the Jatiya Sangsad . . . actually he (Shafi) is trying to bring us into a dark era and I think the opposition MPs have been able to realize it but they are taking the side of Allama Shafi just to oppose the government's activities, said Matia.
Shafi was born from the womb of a woman and he has sister, daughter and wife . . . he has dishonored them, she added. She said poverty and hunger forced a group of women to take prostitution as profession in Rangpur during the regime of Ziaur Rahman in 1979. Where Shafi Ahmad was staying at that time, why he did not come forward to rescue these women?, Matia questioned. She also wanted to know why Shafi Ahmed did not protest when licences were given for liquor businesses and housie (gambling).
Baby Moudud strongly protested the indecent comments of Allama Shafi and urged him to withdraw his remarks. She also demanded punishment of Shafi for making such comments about women. Fazilatunnesa Bappi said Shafi Ahmed disrespected women by making such derogatory remarks. Shafi must seek pardon to women and those who are giving him protection also should seek forgiveness to the nation, she added.
Tarana Halim expressed her dismay for supporting the remarks of Allama Shafi by the opposition lawmakers. She said Shafi stood against the womenfolk and wanted to keep them confined at home. BNP MP Ashifa Ashrafi Papia said the remarks of Ahmad Shafi have been distorted through media coup. If the 13-point demand of Allama Shafi is examined, it would be found that the issue for ensuring security for women was given emphasis in the demands, she added.
Speaking on a point of order, BNP MP Barrister Moudud Ahmed said the Prime Minister insulted people by terming elected representatives of city corporations as corrupt, terrorists and dishonest. He urged all to refrain from making such remarks about people's representatives.
Chief Whip Abdus Shahid described BNP MP MK Anwar's demand for discussion on the budget as unrealistic. He said the opposition MPs were given 12 hours for discussion on the budget and each member of the opposition got 20.13 minutes for discussion. On the other hand, each treasury bench member got only eight minutes, he added.
Abn/Sun-01/Politics/Desk/MR/Mustafiz/Fatama
রিপোর্ট শেয়ার করুন »