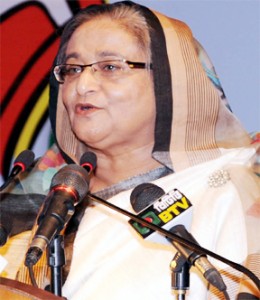 Dhaka, 19 June, Abnews : The government has initiated expansion of the 'Maternal Health Voucher Scheme' in all upazilas to ensure healthcare services for poor mothers during pregnancy and pre and post delivery period.
In each phase twenty upazila will come under the innovative project, a specialized form of demand-side financing programme launched about two years back, Prime Minister Sheikh Hasina said while distributing the Safe Motherhood Award-2013 here today.
Addressing a function on the occasion at Osmani memorial auditorium, the Prime Minister said, the 'Maternal Health Voucher Scheme' has already been introduced in 53 upazilas and more 20 upazials would come under the scheme very shortly.
Sheikh Hasina said the government has taken massive programmes to reach the healthcare services particularly maternity services to the door step of the people. In spite of those steps, she said, 194 mothers die in every lakh a year during delivery.
It's a great challenge for us to reduce mother mortality to 143, child mortality to 20 and at least 50 percent safe delivery by skilled birth attendants by 2015, she said. She said, a process is going on to create three thousand midwives by 2015. Already, 596 nurses have completed their six-month midwifery course and 430 nurses are taking training.
The Prime Minister said, it is possible to reduce the mother and child mortality rate through a concerted efforts of all health service providing agencies and policy makers as well as building awareness among people and their active participation.
Sheikh Hasina said, her government in 1997 declared observing the 'Safe Motherhood Day' every year on May 28. The government is working sincerely for maternal health, safe delivery, nutrition
and build up make people aware about mother and child health.
The pragmatic programmes of the government in this sector have brought massive change in the maternal and child health over the years, she said adding now average life- expectancy of people increased to 69 years from 66.6 years in 2008.
Moreover, the birth rate declined, age of marriage increased, female education expanded, emergency maternity service improved,women were empowered and quality of living got better, she said.
Health and Family Welfare Minister Dr. AFM Ruhal Haque, PM's Advisor on Health and Family Welfare Dr Syed Modasser Ali and State Minister for Health and Family Welfare Mujibur Rahman Fakir addressed the function.
With secretary of the ministry M N Niaz Uddin in the chair, the function was addressed, among others, by director general of Department of Family Planning A K M Amir Hossain and director
general of Department of Health Khandakar Mohammad Shefayetullah.
Urging all to remain careful about safe delivery of every new born and supplement the government efforts to ensure mother and child health, the Prime Minister said elderly members of families have to give attention to nutrition of expected mothers, their proper rest and mental relaxation during pre and post pregnancy period.
The Prime Minister said, Bangladesh is pledged bound to achieve the Millennium Development Goals (MDGs). In this regard, she mentioned about the UN award given to Bangladesh for its success in achieving MDG-1 (poverty reduction) and MDG-4 (reduction of child mortality).
Bangladesh also achieved award from Global Alliance of Vaccination and Immunization (GAVI) in 2009 and 2012 for its outstanding success in the child immunization programme, she said.
Sheikh Hasina said, the government has expanded Health,Population and Nutrition Programme (HPNP) up to 2016 in which maternal and child health were given special priority. She said, emergency delivery service has been introduced in all medical colleges, 59 district hospitals, 132 upazila health complexes and 68 mother and child welfare centres.
In Dhaka, she said, the service is being provided in Azimpur Maternal and Child Health Training Institute, Mohammadpur Fertility Centre and Union Health and Family Welfare Centres under Department of Family Planning.
Pointing out the introduction of information technology in the health sector, the Prime Minister said, at present eight highly modernized hospitals are providing telemedicine services while it will be expanded in 10 more hospitals. She said, computer and internet connections were given in all public hospitals and health organizations at national and upazila level along with internet connection and supply of laptop to 3,500 community clinics.
Twenty-two Union Information and Service centres (UISC) are providing medical advice through tele-medicine system facilitating mothers to take advice from experts and trained doctors, the Prime Minister said. She said, the present government has recruited 8,000 manpower in the health sector. Process is going on for recruiting more 7,000 doctors and 5,000 nurses and three thousand midwives, she said adding the government is trying to procure helicopter for emergency shifting of critical patients from remote areas.
On the occasion, a total of 49 successful health attendants, doctors, upazila and upazila health officers, civil surgeons in eight categories were given Safe Motherhood Award for their contribution to reaching maternity health services to the common people.
Abn/Wed-02/Health/Desk/MR/Mustafiz/Fatama
রিপোর্ট শেয়ার করুন »