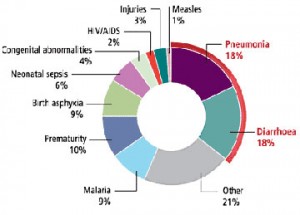 Dhaka, 25 August, Abnews : The maternal and child death rates and waterborne diseases marked substantial reduction following laudable improvement in health services, sanitation and pure drinking water coverage in the country. The under-5 children mortality rate has reduced to only 53 now among every 1,000 against 88 in 2003 while maternal mortality rate dipped to 194 per every 100,000 against over 230 a decade ago, Rangpur Divisional Director (Health) Dr Shahadat Hossain said.
Besides, spreading of water-borne diseases such as diarrhoea, cholera, dysentery, jaundice and others have almost disappeared now. According to the experts, the success has been achieved following hectic efforts of the present government in providing health services and creating awareness on health, hygiene and nutrition- related issues among rural people in recent years.
Recurrence of water borne diseases, maternal and child death rates have decreased following the government's pro-people health policy and awareness building activities being conducted for rural people through GO-NGO collaboration, they said.
Health workers of different GO-NGOs, health and family welfare centres, union health sub-centres and community clinics are playing vital role along with efforts of the WHO and UNICEF in the process of attaining the millennium development goals (MDGs).
The government has been working to achieve all set targets of the MDGs by 2015 and ensure sanitary latrine for all citizens through hectic efforts jointly with the NGOs, development partners and other organisations, they said.
To achieve the set targets of total sanitation coverage, the Department of Public Health Engineering (DPHE) completed implementation of a project National Sanitation Project (NSP) in two phases by June this year.
Superintending Engineer of DPHE and Project Director of the just-concluded phase-II of the NSP, Anwar Hossain told BSS, 81 percent people are using healthy latrines now in Bangladesh where an intensified campaign is underway to achieve cent percent sanitation coverage.
Currently, 96 percent people have basic sanitation facilities, 81 percent attained the required sanitation standard in Bangladesh where only four percent people defecate in open places while the figure was 42 percent in 2003, he said.
Bangladesh has achieved tremendous improvement in sanitation status that is directly linked to public health as well as human life and the nation is on its way to achieve total sanitation coverage for all citizens very soon, he added.
Community Medicine Specialist at Rangpur Medical College and Hospital (RMCH) Dr Fazlul Haque said fewer diarrhoea patients (food poisoning related) came to him in recent years though the number from waterborne diarrhoea was 30 times higher a decade ago.
Gynecologists of RMCH Dr Kamrun Nahar Jui and Dr Anichha Begum said the community clinics have also been playing vital roles in providing health, hygiene and nutrition-related services and information to the rural people.
Head of Programme (Coordination) of RDRS Bangladesh Monjushree Saha said incident of waterborne disease-related child and maternal deaths has also come down in the remote char areas where the number was alarmingly high even a decade ago.
Because of already created social awareness, waterborne and malnutrition- related diseases, anemia started disappearing and maternal, neonatal and child deaths are reducing everywhere in the rural areas in Bangladesh, she added.
According to Dr Shahadat Hossain, the rural health and hygiene situation has marked significant improvement following re- launching of the community clinics by the present government at ward levels to ensure medicare services for the rural people.
Some 12,248 community clinics are operating in the country, of them, 1,702 in Rangpur division and rural people are getting health services with medicines, he said adding that the public health index in Bangladesh has marked a significant improvement.
Besides, safe deliveries are being performed at many community clinics and as a result, the rate of maternal and child deaths have been reducing pushing the country towards achieving the set MDGs very soon, he said.
Abn/Sun-01/Health/Desk/MR/Mustafiz/Fatama
রিপোর্ট শেয়ার করুন »