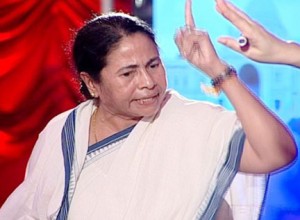 Dhaka, 19 December, Abnews : West Bengal chief minister Mamata Banerjee has threatened she will never allow the Land Boundary Agreement with Bangladesh to be implemented. We are not accepting, not accepting and not accepting (the agreement). The state government will not implement it," Banerjee posted in her Facebook, after Indian foreign minister Salman Khurshid tabled the bill to formalise the agreement that will pave the way for exchange of the enclaves.
The bill was placed in the Rajya Sabha (Upper House) on the last day of the winter session to keep it alive, amid furious protests by all parties except the Congress and the Left.
While the Asom Gana Parishad and the Trinamul Congress opposed it because they claim it goes against the interests of their states, other parties opposed to placing a bill without any discussion. Khurshid placed the bill in the final hours of the Rajya Sabha after it was hurriedly listed in supplementary business in the post-lunch session. Mamata Banerjee described the government's action as 'unfortunate and shameless' and attacked the Congress in no uncertain terms.
It is a political gimmick of a particular party …. to serve its political purpose before General Election. This unilateral act of introduction of the Bill without the consent of the state government has set the alarming trend of bulldozing and imposing an issue which involves not only West Bengal but also Assam, Tripura and North-eastern states. Khurshid defended his action, saying West Bengal's former chief secretary Samar Ghosh had already communicated the state's acceptance of the Land Boundary Agreement in August 2011 in a letter to India's erstwhile foreign secretary Ranjan Mathai. Since Mamata Banerjee had taken over in May 2011 as chief minister, Khurshid said Ghosh's letter was surely not possible without Banerjee's consent. Her opposition to the bill is an afterthought. We expect her to be reasonable and have the overall national interests in perspective, Khurshid told reporters after tabling the bill.
Congress and Left lawmakers, not united in fierce reaction to the ill-treatment of an Indian lady diplomat in the US, suggested Banerjee's opposition to the Land Boundary Agreement and the Teesta Waters sharing deal had much to do with 'external factors'. It is well known she fulfilled an American strategic goal by ousting the Left from power in West Bengal after we tried to stop the Indo-US nuclear deal. Now she is possibly being used to torpedo India-Bangladesh relations, said Mohammed Salim, CPI (M) lawmaker and member of the party's central committee. Congress MP Deepa Das Munshi agrees. The people understand all the games she plays and for whom, she said. Trinamul MP Derek O'Brien however insisted that his leader is opposed to the agreement because it would give away far more land to Bangladesh than it would get for India.
Abn/Thu-01/International/Desk/Nazmul Houda/Mustafiz/Fatama
রিপোর্ট শেয়ার করুন »