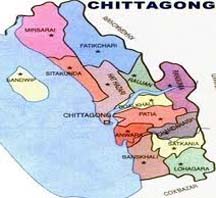 Dhaka, 22 November, Abnews : Malaysian hybrid airline, Malindo Air, in a bid to continue its expansion plans from Kuala Lumpur, will fly to Chittagong, Bangladesh, from January 2014. The new route, will be the second destination after Dhaka, to be operated by a brand new Boeing 737-900ER.
The thrice weekly flight would offer all-inclusive one-way fare from RM455 to Chittagong from Kuala Lumpur while the all-in return fare would fetch RM955, said Chief Executive Officer Chandran Rama Muthy. Chittagong, an important industrial, financial, and commercial hub, is also a transit hub by many neighbouring countries, including India and China.
The modern city of Chittagong is regarded as the commercial capital of Bangladesh and we are tremendously excited about the vast potential of this new connectivity between Kuala Lumpur and Chittagong. We are also anticipating good response from the business travellers as Chittagong's industrial zones are among the world's most competitive manufacturing hubs," he said in statement.
Abn/Fri-01/Economics/Md. Nazmul Houda/Mustafiz/Fatama
রিপোর্ট শেয়ার করুন »