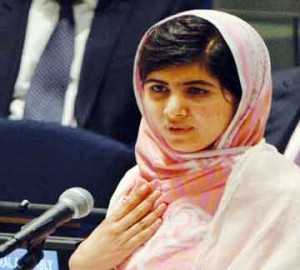 Dhaka, 13 July, Abnews : Malala Yousafzai, the Pakistani schoolgirl who was shot by the Taliban for advocating education, Friday addressed hundreds of young people at the United Nations, giving them a clarion call to use education as a weapon against extremism. Let us pick up our books and our pens. They are our most powerful weapons. One teacher, one book, one pen, can change the world, Malala, who was wearing Benazir Bhutto's shawl, said, in an impassioned address to the UN Youth Assembly. Secretary-General Ban Ki-moon had declared Friday – Malala's 16th birthday – 'Malala Day' in honour of her heroic stand to ensure education for all. Ban said that by targeting Malala, extremists showed what they fear most: (is) a girl with a book.
The meeting, which featured nearly 1,000 youth leaders, was addressed by former British Prime Minister Gordon Brown, in his capacity as UN Special Envoy for Global Education, and Vuk Jeremic, President of the General Assembly. Also present in the packed hall of the UN General Assembly were Malsala's parents and her two brothers. Malala thanked everyone who prayed for her fast recovery. She also thanked all the nurses, doctors and the hospital staff in both Pakistan and Britain, who helped her survive and recover. She asserted that it was not just her birthday, but it was a day of every boy and girl who have raised their voice for their rights.
Malala told the gathering that the Taliban's attack nine months ago changed nothing in her life, except that weakness, fear and hopelessness died. The extremists were, and they are, afraid of books and pens, she said. The power of education frightens them. They are afraid of women. Ban welcomed Malala, praising her courage and determination. Malala used her speech to ask the UN secretary-general and any listening world leaders on the need to keep a promise to provide universal primary education by the end of 2015.
She also handed over a petition to the secretary-general signed by about four million people calling on the 193 UN members to finance teachers, schools and books to meet the education. From the day that terrible shooting – assassination attempt – took place, Malala Yousafzai is a symbol for the rights of girls, and indeed the rights of all young people, to an education, UN spokesman Martin Nesirky said on Thursday at a briefing ahead of today's event.
ln her speech, noted for its depth and sweep, she said that the Taliban thought that the bullet would silence us, but they failed. Weakness, fear and hopelessness died. Strength, power and courage was born, Malala said while making an address pressing for the right of education for every child. UN Special Envoy for Global Education Gordon Brown said Friday's event was not just a celebration of Malala's birthday and her recovery, but of her vision. Her dream that nothing, no political indifference, no government inaction, no intimidation, no threats, no assassin's bullets should ever deny the right of every single child … to be able to go to school, said Brown.
Gordon Brown hailed Malala as 'the bravest girl in the world' as he presented her at the UN Youth Assembly. Gordon Brown said it was 'a miracle' that Malala had recovered to be present at the meeting. Pakistan has five million children out of school, a number only surpassed by Nigeria, which has more than 10 million children out of school, according to the United Nations cultural agency, UNESCO. Most of those are girls. Now, more girls are attending schools in the Swat Valley. But the UN estimates that 57 million children of primary school age do not get an education – half of them in countries at conflict.
Pointing that the thousands had been killed and millions injured by the terrorists, Malala said that she was just one of them, and said that she spoke for the others who could not be heard. She asserted on the need to their right to be educated. Hitting out at the Taliban, she said, On 9th of October, 2012, Taliban shot me. They thought the bullets will silence us, but they failed…out of that silence came thousands of voices. Malala said that following the attack, what died was weakness, failure and hopelessness, and what was born was power and encouragement.
I am here to speak up for the right of education of every child…I also want education for the children of the Talib who attacked me and other terrorists across the world, maintained Malala. According to Malala, she got her power from world leaders like Martin Luther king, Nelson Mandela and Quaid-e-Azam Muhammad Ali Jinnah, and learnt the philosophy of non-violence from Mahatma Gandhi and Mother Teresa and Bacha Khan.
Malala was of the view that terrorists were frightened by the power of education, power of women, adding, That is the reason why they are attacking women and blasting schools. Emphasising that Pakistan as a peace loving country, Malala said that Islam was a religion of peace, equality and brotherhood. Batting strongly for the rights of women, Malala said that the women need to be independent to fight and speak up for themselves. I call upon the world leaders to change their strategic policy to focus on peace and equality…any deal going against rights of women is unacceptable, Malala said.
She advocated free and compulsory education for all children across the world, saying, If we want to achieve our goals, then let us empower ourselves with the weapon of education. Let us wage a global struggle against poverty and terrorism. Malala ended her speech, saying, Education is the only solution. Education first. Her 20-minute speech was given several standing ovations and was quickly hailed for her message of peace and education.
Media adds: Malala Yousafzai, the passionate advocate for girls education, was shot in the head by a Taliban gunman as she road on a school bus near her home in Pakistan's Swat Valley in October last year. She was given life-saving treatment in Britain where she now lives, but the attack has given new life to her campaign for greater educational opportunities for girls. Malala is now considered a leading contender for the Nobel Peace Prize. The Taliban have made it clear however that she remains a target.
The speech in which Malala invoked the legacy of Martin Luther King, Nelson Mandela and other legendary peace advocates brought quick praise. Malala also thanked British doctors and nurses for the care they had given and the United Arab Emirates government for paying for her treatment. British Prime Minister David Cameron said on his twitter account that Malala had delivered a powerful message. The United Nations estimates that 57 million children of primary school age do not get an education – half of them in countries at conflict like Syria. Students and teachers across our globe are intimidated and harassed, injured, raped, and even killed.
Schools are burned, bombed, and destroyed, said Diya Nijhowne, director of the Global Coalition to Protect Education from Attack. According to Ban's annual report on children and conflict, 115 schools were attacked last year in Mali, 321 in the occupied Palestinian territory, 167 in Afghanistan and 165 in Yemen. Pakistan has an estimated five million children out of school and Nigeria 10 million, according to UN estimates.
Abn/Sat-01/Ecucation/International/Desk/Mustafiz/Fatama
রিপোর্ট শেয়ার করুন »