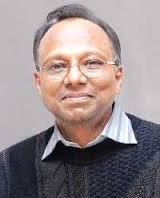 Dhaka, 19 April, Abnews: Amar Desh acting editor Mahmudur Rahman refused to withdraw his hunger strike despite requests from his mother and wife. He stood by his stance although his health condition continues to deteriorate.
As part of his hunger strike, Rahman has been refraining from having food and water for the last five days. Hospital sources say Rahman's mother and wife went to Bangabandhu Sheikh Mujib Medical University Hospital at around 02:30pm Friday to meet Rahman. Both of them requested Rahman to withdraw his fast to which Rahman expressed his refusal. Rahman said he won't withdraw his fast until false case against his mother was withdrawn. He also demanded release of 19 detained journalists of Amar Desh and resumption of printing and publication of the newspaper. Mahbubur Rahman, a journalist of Amar Desh, told natunbarta.com that the editor's health conditions were deteriorating fast with time.
A press conference has been arranged at Amar Desh office at Karwan Bazar in Dhaka at around 05:30pm Friday to present Rahman's health conditions and suspension of Amar Desh publication.
Abn/Fri-02/Law & Crime/Desk/Mustafiz/Majumder/Shila
রিপোর্ট শেয়ার করুন »