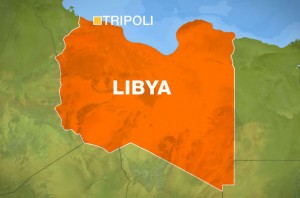 Dhaka, 18 April, Abnews: A Libyan passenger plane with at least 150 passengers on board was shot at as it prepared to land at Tripoli airport, but sustained no major damage, airline sources have said.
The Buraq Air Boeing 737 was a near the capital's airport when the incident occurred on Wednesday evening. It was not immediately clear whether it was accidental fire or an attack. 'As the plane prepared to land at Tripoli airport, it was hit on the bottom, in the lavatory at the front of the plane,' a Buraq Air source told Reuters news agency. 'The plane landed safely afterwards.' 'People started to panic inside and one woman was later taken to hospital to be treated for shock,' they said, adding that the airline had temporarily suspended flights to and from Tripoli. A second airline source added: 'We do not know exactly what happened but we believe this was accidental fire. Security at the airport has been stepped up and so far nothing suspicious has been found.' The plane was on a flight to Tripoli from the eastern Libyan city of Benghazi.
In June last year, clashes broke out between rival Libyan militias at Tripoli's international airport after gunmen drove armed pickup trucks onto the tarmac and surrounded planes, forcing the airport to cancel flights.
Abn/Thursday-01/International/DeskMustafiz/Majumder/Fatema
রিপোর্ট শেয়ার করুন »