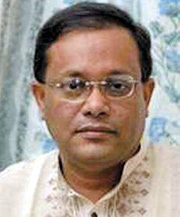 Dhaka, 24 June, Abnews : Environment and Forests Minister Dr. Hasan Mahmud today told parliament that the proportion of lead content in Dhaka city's air is 0.1 to 0.2- microgram/cubic meter, which is now within tolerable limit. The lead content remains at tolerable level in the air as a result of the mandatory use of lead-free fuel since 1999, he said replying to a scripted question of BNP lawmaker Begum Nilofar Chowdhury Moni. To another question, the minister said the government has undertaken a number of donor-financed projects to reduce air pollution by containing carbon emission.
The government has signed an agreement with Clean Air Asia to launch a project titled; ' Reducing Black Carbon from Heavy Duty Vehicles and Engines,' Hasan said adding a draft roadmap will be developed for adoption of low sulphur fuel and clean Low Duty Vehicles (LDV) and Heavy Duty Vehicles (HDV) emissions standards in Bangladesh under the project.
The minister said the people and decision makers would be sensitized on environmental, vehicle and health benefits of low sulphur fuels with the promotion of reduction of sulphur to 50 parts per million (ppm) under the project.
The existing national regulations and incentives that promote low suplhur fuel and clean vehicle emissions in Bangladesh will also be reviewed under the project to be implemented by September 30, 2014 as per the agreement, Hasan said. He said the government has taken initiatives to contain emission responsible for air pollution after identifying the sources under the project- 'Clean Air and Sustainable Environment.'
Abn/Mon-01/National/Desk/Jasim/Mustafiz/Fatama
রিপোর্ট শেয়ার করুন »