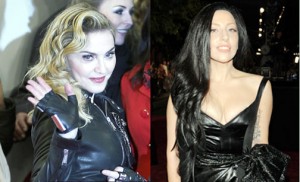 Dhaka, 09 November, Abnews : Lady Gaga is getting back at Madonna for suggesting that her 'Born This Way' had similarities with Queen of Pop's 'Express Yourself'. The 27-year-old singer said she was flattered to be on Madonna's mind, reported Huffington Post quoting Gaga's interview to Attitude.
I have to be really honest, I was completely kind of floored that Madonna was singing my song on her stage every night! I'm certainly not thinking about anybody but me and my fans when I'm on stage, Gaga said while referencing to Madonna's mashup of 'Born This Way' and 'Express Yourself' during her concerts last year.
The fact that I was on her mind at all. I mean, Madonna's … she's Madonna. I looked up to her for a long time. I'm not quite sure what her intention was – to do that in the show, but I don't really care.
She chooses to use her voice the way she chooses to use hers and I choose to use mine the way I use mine. All it meant to me was that Madonna Ciccone was singing my song on her stage and I'm 27! And as a punk-rocker from New York, I've basically been hoping that I would become so good that one day I would piss off Madonna!, Gaga said.
Madonna has in the past made it clear that her 'Express Yourself' was an inspiration for 'Born This Way', something that has been denied by Gaga. In a 2012 interview Madonna said, I'm a really big fan of (Born This Way). I'm glad that I helped Gaga write it.
Abn/Sat-01/Entertainment/International/Desk/MR/Mustafiz/Fatama
রিপোর্ট শেয়ার করুন »