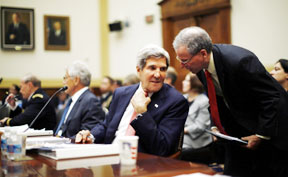 Dhaka, 07 September, Abnews : US Secretary of State John Kerry was to meet EU ministers Saturday to rally support for military strikes against Syria, after a G20 summit failed to resolve bitter international divisions on the issue. Kerry will press the case for punitive action against Syria after what the United States says was a chemical weapons attack by the regime of President Bashar al-Assad near Damascus.
On Friday, US President Barack Obama and Russian leader Vladimir Putin failed to bridge their differences at the summit of top global powers in Saint Petersburg. Just over half of the G20 states signed up to a statement calling for a strong response to last month's alleged chemical attack.
Kerry is to hold talks with the European Union's 28 foreign ministers in Lithuania, which currently holds the EU's rotating chair, with the bloc itself sharply split. The costs of inaction here are much greater than the costs of action, he wrote in Friday's Huffington Post. Only France has said it is ready to take part in military action, while Britain – whose parliament voted against any involvement – and Denmark have expressed support.
France was one of four European nations – with Britain, Italy and Spain – that signed a statement at the G20 meeting Friday calling for a strong international response to the chemical attack, widely attributed to the Assad regime. The statement, signed by 11 of the G20 nations — but not by Germany – said the response would send a clear message that this kind of atrocity can never be repeated.
It did not specify military action and European diplomats said the language remained vague. But while Obama said the world could not stand idly by, Putin warned it would be outside the law to attack without the UN's blessing. Putin also said Russia would help Syria if the US were to strike, pointing to existing military, economic and humanitarian cooperation.
Washington has prepared the ground for possible strikes, evacuating non- essential embassy staff from Beirut and urging Americans to avoid all travel to Lebanon and southern Turkey. As well as the stubborn international differences, the US administration is still scrambling to win backing from Congress for any action against Syria.
Congress reconvenes on Monday and Obama addresses the nation on Tuesday. But he acknowledged that convincing Congress to back military action against the Syrian regime would be a heavy lift. I understand the scepticism, the US president said. Obama made several calls to Republican and Democratic lawmakers during his flight home from Russia, a senior administration official said, declining to elaborate.
The world is still waiting for a much-anticipated report by United Nations inspectors on the deadly August 21 attacks that left hundreds dead. At the G20, French President Francois Hollande,vowed to wait for the UN report before joining any military action, a decision welcomed by Germany. German Foreign Minister Guido Westerwelle urged the UN to publish its report as quickly as possible to help Europe's divided leaders determine a response.
Sweden's Foreign Minister Carl Bildt told reporters it was essential to wait for the UN report as it will be the best picture we can get from any source. The Indians, the Brazilians, the Chinese and others don't really think that information from US intelligence is enough, and that's the world we live in, he said.
Russia and China – both veto-wielding permanent members of the UN Security Council – have on three occasions voted down resolutions that would have put pressure on Assad. On Friday, the Russian foreign ministry warned the United States against targeting Syria's chemical arsenal in any attacks.
Later Saturday, Kerry is due to fly to Paris for talks with French officials. He will meet Arab League leaders there on Sunday to update them on Syria and on progress in the Israeli- Palestinian peace process. He will travel on to London for talks late Sunday with Palestinian president Mahmud Abbas, before flying home Monday. Pope Francis has appealed for a peaceful solution to the crisis, calling on the world to unite on Saturday in a day of fasting and prayer for Syria. He will lead the way with a five- hour vigil in St Peter's Square.
Abn/Sat-01/International/Desk/MR/Mustafiz/Fatama
রিপোর্ট শেয়ার করুন »