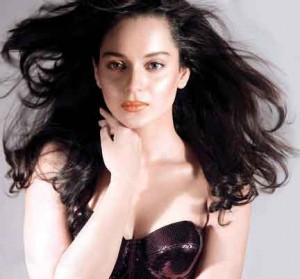 Dhaka, 24 July, Abnews : A nervous Kangana Ranaut and flamboyant Kabir Bedi were the showstoppers for ace designer JJ Valaya on the opening day of the India Bridal Fashion Week here. Valaya's collection, 'The Maharaja Of Madrid' and ramp set-up brought alive the old world charm of India and Spain. The stage was done up in white decor and models dressed like royals depicted a grand welcome of a Maharaja and his daughter from their adventures in Spain.
Kangana, 26, wore an orange-golden lehenga teamed with a blue velvet choli and golden headgear as she sashayed down the ramp in the character of the Maharaja's daughter. It has been a while that I have walked the ramp. I am always nervous and excited to get back on stage because it is something I don't get to do often. I felt like a princess while walking the ramp, I was wondering how princess' must have felt wearing such heavy outfits, Kangana said.
Kabir Bedi, who played the Maharaja on the ramp, was confident in his stride and seemed to enjoy the attention of the audience as they hooted for the actor as he made his entry. I feel royal in this outfit. It made me feel like a Maharaja, I wish I could take it home, said the 67-year-old. He was wearing a maroon sherwani teamed with a turban.
The beautiful motifs on the dresses were a tribute to renowned Mexican artist Diego Rivera and the collection saw hues of white, beige, black, red, green and orange. The show, divided into five sections, began with a jugalbandi of Kathak and flamenco dance.
Abn/Wed-01/Entertainment/International/Desk/Mustafiz/Fatama
রিপোর্ট শেয়ার করুন »