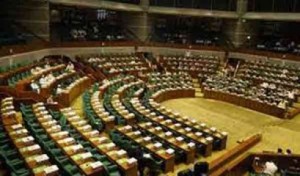 Dhaka, 21 April, Abnews:The 17th session of the ninth parliament is set to begin at 5:30pm on Sunday. The country's 20th president will be elected during the session summoned by Acting President Abdul Hamid Advocate.
The post of president has fallen vacant following the death of President Zillur Rahman on March 20. Main opposition was urged to attend the upcoming JS session. On January 9, 2009, the current parliament started its journey. Election Commission announced the election schedule to elect president of the country on April 9. As per the schedule, the date for submitting nomination is April 17-21, for withdrawal April 24 and for holding polls April 29. Chief Election Commissioner Kazi Rakibuddin Ahmad will discharge duty as returning officer in the polls and he will sit on Speaker's chair. Working Advisory Committee of the parliament is set to sit at 4:30pm. Besides, Awami League Parliamentary party is set to hold a meeting around 11:00am at Jatiya Sangshad Bhaban. On the other hand, main opposition BNP will not join the JS session. BNP lawmaker Nazrul Islam Manju rejected the possibility of joining the session. The main opposition party BNP will not join the 17th session, Barrister Mahbub Uddin Khokon, Joint Secretary General of BNP confirmed saying that they would join the session only when they get assaurance from the ruling party about discussion on caretaker issue in the house.
There is no atmosphere to join the house at this moment leaving top leaders of the party in prison, he said.
Abn/Sun-01/National/Desk/Mustafiz/Majumder/Fatema
রিপোর্ট শেয়ার করুন »