Dhaka, 29 July, Abnews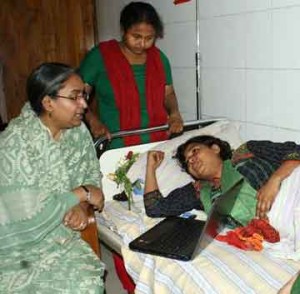 : The High Court on Sunday issued a rule asking the government to explain in four weeks why the perpetrators who assaulted ETV reporter  should not be brought before it after tracking them down.   Journalist Nadia was assaulted by the Hefazat-e-Islam zealots on April 6 at its rally in the capital. The HC made gave the orders to the Home Secretary, Director General Health and Director Dhaka Medical College Hospital.
Issuing the rule upon a public interest litigation writ petition filed by Human Rights and Peace for Bangladesh, an HC division bench comprising Justice Quazi Reza-Ul Hoque and Justice ABM Altaf Hossain asked the government to provide ETV reporter proper medical treatment in public hospital free of cost.
The HC also asked the Director General Health to form a medical board within a week with a senior professor as its head for the treatment of journalist Nadia. It further asked the Health Secretary to ensure medical treatment of Nadia abroad if the designated medical board so advices.
Abn/Mon-01/Media/Desk/DB/Mustafiz/Fatama
রিপোর্ট শেয়ার করুন »