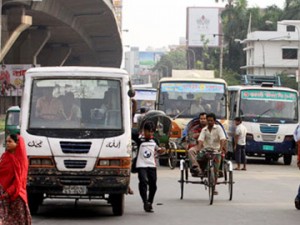 Dhaka, 12 May, Abnews : The dawn-to-dusk nationwide strike enforced by Jamaat-e-Islami is underway in a relaxed way today amid strict security vigil. Pro-hartal activists clashed with law enforcers, torched several vehicless, exploded crude bombs and brought out sudden processions at different parts of the country to enforce the strike. Jamaat sponsored the strike to protest the death sentence awarded to its assistant secretary general Mohammad Kamaruzzaman.
In the capital, activists of Islami Chhatra Shibir, student wing of Jamaat, set fire on a fruit laden truck and two passenger buses at Mirhazirbagh, Mirpur and Sayedabad areas under Jatrabari police station early morning, police and witnesses said. Two Shibir activists were held in connection with torching a truck at Mirhazirbagh, police said.
Police arrested four Jamaat-Shibir activists from Moghbazar Wireless Gate area around 5am, as they were setting fire on a banner on the railway line, officer-in-charge Md Shah Alam of Ramna police station told Abnews. Hartal supporters exploded two crude bombs at Dholai Khal area in old Dhaka around 6:45am, damaged a passenger bus and truck at Matuail area.
Apart from police and RAB, members of Border Guard Bangladesh (BGB) have been deployed in Dhaka and Chittagong to avert any destructive activities during hartal, a spokesman of the home ministry told Abnews. He said mobile magistrate teams remained vigilant in the capital while plainclothes police with still as well as video cameras were put on alert at some strategic points in the capital to identify the troublemakers.
According to reports reached here, life remained almost normal as the strike enforced by Jamaat got a lukewarm response today. Witnesses said movement of cars was thin on the street due to the strike but buses on different routes plied defying the hartal call. No inter-district buses were seen to ply to and from the capital. The shutdown affected little the countrywide train services, flight operations on domestic and international routes and launch services.
Witnesses said operations including loading and unloading at ports were almost normal during the hartal hours. Banks, insurances, Dhaka Stock Exchange and other commercial institutions continued their operations as usual amid tight security vigil.
Abn/Sun-01/Politics/Desk/Reporter /Mustafiz/Fatama
রিপোর্ট শেয়ার করুন »