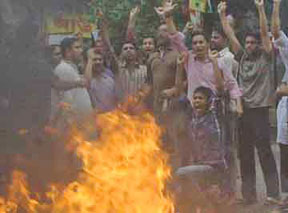 Dhaka, 13 August, Abnews : Bangladesh Jamaat-e-Islami (JI) called 48-hour countrywide hartal (shutdown) began at 6:00 am today protesting a High Court verdict that declared illegal the JI's registration with the Election omission as a political party.
Members of law enforcement agencies along with Rapid Action Battalion (RAB) and detectives are maintaining stringent security vigils to foil sabotage of Jamaat-Shibir activists in the capital and elsewhere across the country.
In the capital, hartal pickets, emerging from secret places, brought out a sudden procession at Dhalpur and tried to vandalise vehicles there. Police said the pickets exploded crude bombs targeting the law enforcers. But no causalities were reported there.
On the eve of the hartal, JI and its student wing Islami Chhatra Shibir brought out demonstrations in the evening in many districts, including the capital's Motijheel, Chawkbazar and Mirpur areas.
Hartal supporters clashed with law enforcers in some areas outside the capital. They exploded cocktails and vandalized vehicles in city streets to create panic.
Abn/Mon-02/Politics/Desk/MR/Mustafiz/Fatama
রিপোর্ট শেয়ার করুন »