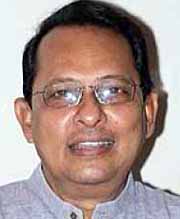 Dhaka, 09 May, Abnews : Information Minister Hasanul Haq Inu, MP today said that he was an ardent advocate for autonomy of the state-run Bangladesh Television (BTV) to help erase its image as a propaganda machine of the ruling parties. I am not only in favour of the autonomy of BTV but also putting relentless efforts for it, he said while speaking as the chief guest at a roundtable discussion titled Practice of native culture and BTV.
Television Shilpa Sangstha organized the discussion at Dhaka Reporters' Unity (DRU) with its executive president Khairul Alam Sabuj in the chair. Monoronjan Goshal, an artist of Swadhing Bangla Betar Kendra, presented the key-note paper.
Among others, Cultural Secretary Ranjit Kumar Biswas, Prof Dr. Syed Anwar Hossain, Director General of BTV M. Hamid and Managing Director and Chief Editor of Bangladesh Sangbad Sangstha (BSS) were present. We are going to prepare a broadcast policy soon in which among other issues the matter of granting autonomy to BTV will be incorporated.
Abn/Thu-01/Media/Desk/Jasim/Mustafiz/Fatama
রিপোর্ট শেয়ার করুন »