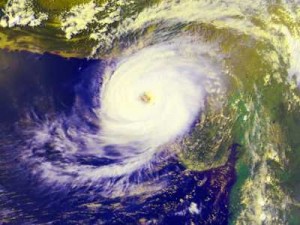 Dhaka, 22 November, Abnews : Thousands of people have been evacuated from coastal areas in eastern India, as a strong cyclone approaches. Cyclone Helen, which is generating wind speeds of up to 120km h (75mph), is expected to make landfall in Andhra Pradesh state later on Friday.
India's weather office says the cyclone is expected to be accompanied by storm surges of up to 1.5m (5ft). At least 27 people died when a stronger cyclone, Phailin, hit India's eastern coast last month. The Indian Meteorological Department has classed Cyclone Helen as 'severe' and has warned of "extensive damage to thatched roofs and huts.
It says there will be minor damage to power and communication lines due to uprooting of large avenue trees. Twenty rescue teams had been deployed in the flood zone, a spokeswoman for the National Disaster Management Agency, Tripti Parule, told the media news agency. Evacuations of thousands has already taken place and provision for food, water and shelter are also on track, she said, adding that the aim was for zero casualties.
Last month Cyclone Phailin destroyed tens of thousands of homes, uprooted trees and blocked roads in Orissa and Andhra Pradesh states. Hundreds of thousands of people were evacuated ahead of Phailin, which was classified as a very harsh cyclone.
Abn/Fri-02/International/Md. Nazmul Houda/Mustafiz/Fatama
রিপোর্ট শেয়ার করুন »