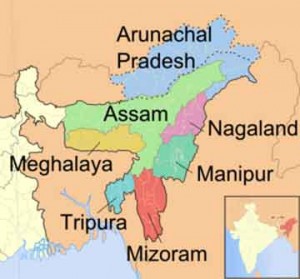 Dhaka, 01 August, Abnews : India has proposed to buy bandwidth from Bangladesh to establish smooth internet connectivity with its northeastern seven states, said officials. The neighbouring country has requested Bangladesh to provide three types of business cooperation including IP transit, bandwidth import and establishment of a common circuit network to ease communication, they added. A ten-member Indian delegation met with the officials of ministry of post and telecommunications this week, and placed their proposal for the bandwidth and other issues.
Talking to Abnews, Md. Monwar Hossain, managing director of Bangladesh Submarine Cable Company Limited (BSCCL) that owns the country's lone submarine cable SEA-ME-WE-4, said, They (India) requested us to export unused bandwidth to them for their seven states. We've told them, if our government allows, we have no problem to export the unused bandwidth to the seven states, added Hossain.
The BSCCL managing director informed: If the government gives consent, we will export bandwidth after securing our requirement for next five years. Officials said India will offer financial and technical proposal formally for the bid next month. Currently, the BSCCL has the bandwidth capacity of 200 GBPS through the submarine cable SEA-ME-WE 4 (South East Asia-Middle East-Western Europe) while the country is using nearly 42 GBPS for data and voice services.
In addition, the country will achieve 700 GBPS bandwidth capacity, as the installation of second submarine cable SEA-ME- WE-5 is to be completed by December, 2014. At present, the BSCCL earns Taka 1.5 billion by selling bandwidth of 42 GBPS and the earnings will almost double if the authority is able to export the unutilised portion.
India mainly imports bandwidth for the landlocked Assam, Meghalaya, Tripura, Mizoram, Manipur, Nagaland and Arunachal states to boost internet connectivity. India wants to connect fiber optic cable through Akhaura- Agartola-West Bengal for internet connectivity while the neighbouring country has also sought IP transit for its north- western states.
Besides, India requested Bangladesh to allow installation of a common circuit in Tripura-Comilla- Brahmanbaria-Akhaura so the people could communicate directly with their relatives living in two countries. Officials informed that Bhutan, Nepal and Myanmar are also holding consultations with the government to get bandwidth from Bangladesh.
Apart from the BSCCL, some six International Terrestrial Cable (ITC) operators have started bandwidth business as alternative sources in the country. The six operators' bandwidth capacity is not more than 50 GB. Officials informed the ITC operators and BSCCL is working jointly for exporting bandwidth to the landlocked countries.
Country's six cellular phone operators, two WiMAX companies,and more than 100 small and big broadband internet service providers buy bandwidth to provide internet services to above 33 million internet subscribers. Of them, 95 per cent users are connected with the mobile internet.
Abn/Thu-01/Technology/Desk/MR/Mustafiz/Fatama
রিপোর্ট শেয়ার করুন »