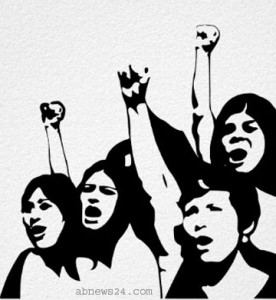 Dhaka, 12 February, Abnews : Women empowerment, the balancing of power relations between males and females at individual, household, society as well as national levels in Bangladesh, has achieved commendable success over the past two decades. And this process of transformation is positively influencing women's participation in the key sectors: education, employment and income, and political representation.
Bangladesh, according to Global Gender Gap Report 2012, has been ranked the 8th in the world in terms of political empowerment of women owing to women- centric policies of the present government. Bangladesh focuses on giving women the power and authority they need to be men's equals. It is one of the rarest nations where the prime minister, head of the opposition, and the speaker of the parliament are females.
With a cultural past of worst women deprivation, Bangladesh has come a long way in empowering women. The country is now the second largest manufacturer and exporter of garments and apparels with a majority women workers. Microcredit has flourished the rural economy to empower women in greater way. More than 80% of the microcredit beneficiaries are women.
Women entrepreneurship is highly encouraged here. In the past three years, more than 1,000 women have worked through a graduated business development project, which has diversified their income sources and increased their annual income by approximately 70%. The gender-based quota system has provided opportunities for women to shift social barriers and emerge as leaders. The majority of the female lawmakers in Bangladesh have come through the gender- based quota system.
Research has found that higher numbers of women in legislative bodies increases the attention to gender equality in policy making. One of the major milestones in Bangladesh's history in women's empowerment was the enactment of the Local Government (Union Parishad) Second Amendment Act in 1997 that provided for direct elections to reserved seats for women in local level elections.
The rights of the women are enshrined in the national constitution. The National Policy for Women's Advancement stipulates equal partnership of women in development. Nevertheless, gender discrimination still continues within the society. Numeric representation of women in the national parliament (20%) and local government councils (25-30%) has increased, but overall women's participation in the political spectrum still remains low. Once elected, many women don't find themselves as equal decision makers in the political milieu.
Despite being nearly half of the total population, the status of women is, however, much lower than that of men in every scope of life. With the progression of time, the facts have now been recognized that without ensuring women development, the national development cannot be achieved and or not sustainable.
Women's equal participation in political life plays a pivotal role in the general process of the advancement of women. It is not only a demand for simple justice or democracy but can also be seen as a necessary condition for women's interests to be taken into account.
Without the active participation of women and the incorporation of women's standpoint at all levels of decision- making, the goals of equality, development and peace cannot be achieved. Bangladesh has made progress in attaining women empowerment in various areas, including fertility, infant and child mortality and female education. Education is essential to reduce discrimination and violence against girls and women.
The country has made great progress in this area, already achieving gender parity in primary and secondary education. Yet it continues to experience a sharp drop in the number of women entering tertiary education. Women's employment in non-agricultural sector is currently around 25%. In another instance, Bangladesh had done remarkably well in reducing maternal mortality rate by 40% in the last nine years. It is also heartening to know, that after China and Nepal, Bangladesh is the only country, surpassing India, Pakistan and Afghanistan, with the highest number of women taking part in the 'labor force.'
Besides, statistics also reveal that a Bangladeshi woman, on average, earns about 55-60% of what a man earns yearly. Even in this regard, the country is closing the gap between it and China, Sri Lanka and Vietnam. Today, Bangladeshi women have the benefit of enjoying a freedom where they can go out of their own houses to places like fairs, markets without anybody accompanying them for security.
Abn/Wed-01/National/Desk/MR/Mustafiz/Fatama
রিপোর্ট শেয়ার করুন »