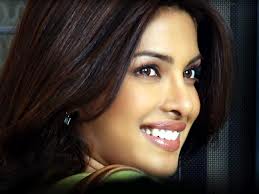 Dhaka, 21 April, Abnews: Bollywood actor and UNICEF goodwill Ambassador Priyanka Chopra said she hopes to create a safer environment for girls in the country. 'I hope I help create an environment where girls could be safe. With UNICEF, we are trying to create actual physical environment for girls where they could be safe, especially in villages,' she said.
The actress said this at an art and cinema memorabilia auction event. Talking to media persons later, she said that last time it was the Delhi gang rape case that she had heard of and this time it is a five-year-old's rape which is making headlines. The actor said that as part of the campaign 'we are also trying to educate parents about safeguarding their own girls as well as trying to educate boys to understand women better.' Priyanka, also gave a cameo performance emphasising the safety of girls, at the event. Dressed in a shimmering red saree, the 30-year-old actor performed to the opening lines of Tagore's famous poem 'Where the mind is without fear'. She said that while many do raise voices, there are also those who are not able to and 'I hope this campaign will give voices to such people to fight against evil in society'. 'My parents instilled in me the values and a belief that I could stand on my own feet and become whatever I could dream to be. I think that is the biggest gift that we can give to these girls so that they can stand on their own feet and be themselves,' she said. The actor also urged the audience present at the auction to 'loose their purse strings' to help the campaign reach the Rs 11 lakh figure mark, needed for projects like providing clean drinking water, sanitation, school spaces etc in villages. The auction kicked-off with a few sales ranging from Rs 1.4 lakh to over Rs four lakh.
One of the pieces which has been put up for auction is a Christian Louboutin shoe signed by Priyanka and worn by her in her upcoming video, 'Exotic'.
Abn/Sun-02/Entertainment/Desk/Mustafiz/Majumder/Ripa
রিপোর্ট শেয়ার করুন »