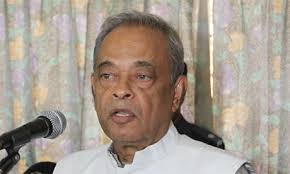 Dhaka, 24 April, Abnews:The building code was not followed when it was constructed in Savar, said Home Minister Muhiuddin Khan Alamgir on Wednesday.
'The building was not constructed following the building code. We will investigate the incident and bring the people responsible for the accident to justice,' the minister told reporters during his visit to Rana Plaza. At least 80 people were killed and over 600 injured when the nine-storey building housing five garment factories, a market and a branch of Brac Bank collapsed around 8:45am. The government will provide the affected people with food, shelter, relief and necessary rehabilitation facilities, the minister told reporters.
'We will make sure that nobody in the future can endanger the lives of the people with such a reckless act,' he added.
Abn/Wed-02/National/Desk/Mustafiz/Majumder/Ripa
রিপোর্ট শেয়ার করুন »