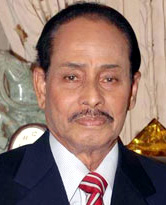 Dhaka, 30 May, Abnews : Former president and Jatiya Party chairman HM Ershad attended the hearing of Maj Gen Manjur murder case on Thursday at First Additional District and Session's Judge's Court near the Dhaka Central Jail premises. The court is holding arguments and counter arguments in the murder case in which Lt Gen (retd) HM Ershad is the main accused.  After testimony of 28 witnesses, Ershad on October 2 last year claimed himself innocent through a written petition to the court.
Sheikh Sirajul Islam, lawyer of Ershad, told journalists, the case proceedings has been going on for the last 18 years and at least 12 judges were changes in the case, but if the case proceedings were run as per normal rules without any hindrance, then such huge time would not have been taken in resolving the case.
During argument presentation, usually lawyers never make time petitions, but the prosecution lawyers had petitioned four times seeking time and the next date for the hearing in the case has been fixed July 18, said Sirajul Islam.
On June 1, 1981, Major General Manjur was shot dead in Chittagong Cantonment. A murder case was filed with Panchalaish Police Statio after 14 years on February 28, 1995. Then police submitted the charge sheet in that year launching trial proceedings in the case. Later the case was transferred to Dhaka on security reasons.
Abn/Thu-02/Law & Crime/Desk/Dulal/Mustafiz/Fatama
রিপোর্ট শেয়ার করুন »