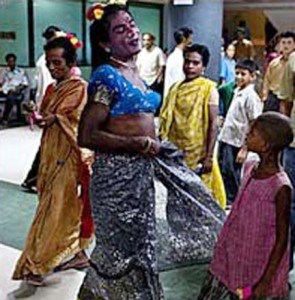 Dhaka, 12 September, Abnews : Bangladesh has officially recognized hijras as a separate gender. This recognition will secure their rights, enabling them to identify their gender as 'hijra' in all government documents, including passports. The measure is aimed at ending their discrimination in all spheres 0f life including education, health and housing.
The 'policy decision' was approved at Monday's Cabinet meeting presided over by Prime Minister Sheikh Hasina. There are at least 10,000 hijras in Bangladesh, Cabinet Secretary Muhammad Musharraf Hossain Bhuiyan said after the meeting. They are being denied their rights in various sectors including education, health and housing because of being a marginal group.
The Ministry of Social Welfare had initiated steps for their social assimilation but a lack of gender identity came in the way, making government facilities inaccessible, Bhuiyan said. This decision will allow them to identify their gender as 'hijra' when personal information need to be furnished. Their passports too would state their gender as 'hijra'.
'Hijra' will be used in English in all documents, said the Cabinet Secretary.
Biologically, hijras show both male and female sexual characteristics and organs – usually the result of chromosomal or hormonal defects or complications arising from psychological problems. These hijras suffer rights denial in their respective families and society, including civil rights, forcing them to live together in neglected communities.
Various organisations long since ago working for the hijras have long been demanding their official recognition as a third gender. Bangladesh's neighbouring countries such as India, Nepal and Pakistan have already given them that recognition.
Abn/Tue-02/National/Dr. Nazmul Houda/Mustafiz/Fatama
রিপোর্ট শেয়ার করুন »