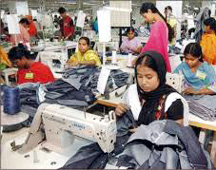 Dhaka, 07 May, Abnews : Expressing serious concern over the call of hartal by the BNP led 18 party alliance on Wednesday and Thursday, apparel exporters in a statement said the recurrent hartals would hit hard apparel export. Bangladesh Garment Manufacturers and Exporter Association (BGMEA) and Bangladesh Knitwear Manufacturers and Exporter Association (BKMEA) in a joint statement today urged the opposition to call off their hartal to help save the country's garment industry, which is facing problem due to the Savar Building collapse.
Referring to the scheduled visit of a delegation of buyers from China on Thursday, the two major organisations of the country's readymade garment exporters apprehended that the hartal would disrupt the planned visit of the team and disappoint its members. The delegation includes representatives from 20 leading brands who run more than 100 stores in China alone.
The delegation, which is arriving in Dhaka on Thursday morning, will be visiting some garment factories on the same day. But, we are afraid that it would be a security concern to take the team to hotel from the airport and arrange their planned factory visit if the hartal is not withdrawn, the statement said.
It also said that the hartal would also hinder the salvage operation at Savar and treatment of injured persons as many of them require transfer from one hospital to another.
Abn/Tue-01/Economics/Desk/MR/Mustafiz/Fatama
রিপোর্ট শেয়ার করুন »