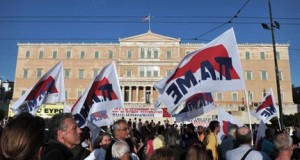 Dhaka, 01 May, Abnews:A general strike against tough austerity measures is under way in Greece, with trade unions calling for 'mass mobilisation' of protesters.
The 24-hour action is expected to severely disrupt public services, including transport and hospitals. The organisers are demanding an end to spending cuts and tax rises. The government says the measures are badly needed to lead Greece out of a deep financial crisis and six straight years of recession. The cabinet of Prime Minister Antonis Samaras says the policies are part of continuing moves to ensure more bailout money from international creditors. The 24-hour strike officially began at midnight on Tuesday to mark labour day. May 1 is not a public holiday in Greece this year, as that has been moved to next Tuesday – after Orthodox Easter. Mark Lowen in Athens says public transport will be disrupted, ferries halted and hospitals will work on skeleton staff. Demonstrations are planned, across the country, with police on alert for a repeat of past violence. The two largest unions – GSEE and ADEDY – have said that the action will focus on demands to end austerity. They say that government measures have led to the country's record unemployment rate of 27%, including almost 60% among young people. Mr Samaras has defended his policies, insisting that this year of recession will be the country's last. Our correspondent says that more than 20 general strikes have failed to halt the cuts, and the government feels emboldened by the cautious optimism of its international creditors. Nearly 3bn euros (£2.5bn; $4bn) of bailout money were approved this week, with another 6bn euros set to come on 13 May.
Since 2010, the European Union and the IMF have promised more than 200bn euros in lending for Greece.
Other May Day action has been taking place across in the world:
Protesters demanding the execution of factory bosses over the deaths of hundreds in a recent building collapse in Bangladesh marched in their thousands in the capital, Dhaka
Thousands of Filipinos marched in Manila demanding the government protect jobs and improve worker contracts
Cambodian workers rallied in Phnom Penh, calling for higher wages
Thousands marched in Indonesia's capital, Jakarta, protesting at low wages and outsourcing
Trade unions held demonstrations in Tokyo, with calls for more youth employment one of the main focuses.
Abn/Wed-01/International/Desk/Mustafiz/Majumder/Ripa
রিপোর্ট শেয়ার করুন »